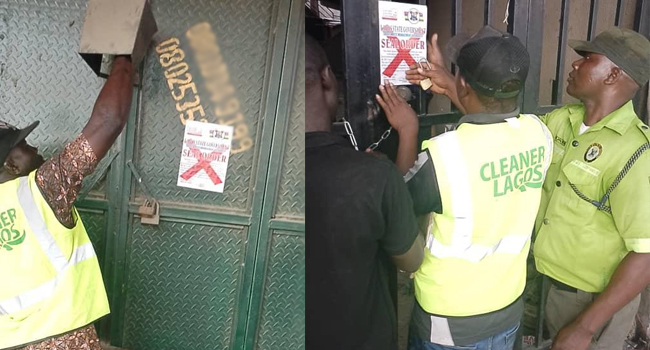 WASTE DISPOSAL OFFENCES: LAGOS STATE GOVERNMENT SHUTS DOWN OGBA CITY MALL, AJAH MARKET
Read Time:
1 Minute, 44 Second
Due to "waste disposal offences," the Lagos State Government closed the Ogba City Mall and Ajah Market.
The Lagos State Waste Management Authority (LAWMA) made this announcement on Monday.
"The Lagos State Government has shut Ogba City Mall, Ikeja, and Ajah Market, Etti-Osa, for sundry waste disposal offences," LAWMA's Director of Public Affairs Folashade Kadiri said in the statement.
"The action was carried out by the combined enforcement teams of the Lagos Waste Management Authority, LAWMA; State Task Force on Environmental Sanitation and Special Offences, LASTMA and LAGSEC (KAI)."
The LAWMA representative continued, saying that on Sunday, the enforcement team also removed shantytowns and the buildings of unauthorised vendors from the area surrounding the Ajah Jubilee Bridge and BRT route.
On Sunday, November 5, officials from the Lagos State Waste Management Authority (LAWMA) and KAI cordoned down the OGBA Shopping Mall next to Sunday Market per the HC MOE&WR's orders.
Following the event, Tokunbo Wahab, the Lagos State Commissioner for Environment and Water Resources, stated that the action was consistent with the government's determination to keep up its campaign against filth and the careless disposal of rubbish by marketplaces and enterprises.
"We are stepping up action on this administration's zero tolerance for filth and reckless waste disposal by traders and business facilities," he was quoted as saying.
"We have continuously warned business owners to expect action if they refuse to do the needful to sustain the environment. Governor Babajide Sanwo-Olu's administration will not relent in its pursuit of this lofty objective for overriding public good".
On his part, the Managing Director/CEO of LAWMA Muyiwa Gbadegesin reiterated the zero-tolerance campaign which he said is continuous.
"For the umpteenth time, we are encouraging all business owners and the markets, to shun filth and put measures in place, to guarantee responsible waste disposal in their places of operation," he maintained.
Sunday's move is the latest in the clampdown on filth in the commercial city with several businesses and markets shut over their failure to keep to best environmental practices.