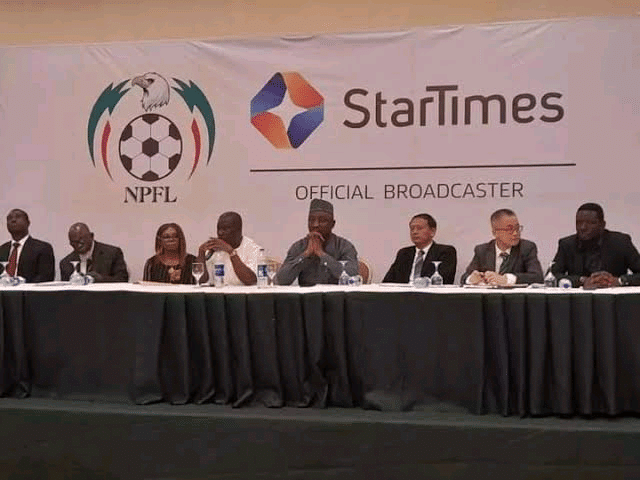 OPINION: NPFL BROADCAST RIGHTS, A WIN WIN DEAL
Read Time:
5 Minute, 30 Second
A new vista pointing to a growth trajectory for the Nigeria Premier Football League (NPFL) opened on Thursday, November 2 when StarTimes and the League penned a deal worth a total of ₦5.9 billion over five years.
It was for many, an end to years of broadcast anomie as the last six years saw all manner of deals put on the table leading to erosion of broadcast quality and eventual loss of value for the most important asset of any football league.
"Put the league on tv or when will the league return to television" was always a common retort by critics and some others who apparently didn't understand the dynamics of broadcast rights marketing.
The point should be made that one of the biggest obstacle to selling the NPFL Broadcast right is the huge production cost occasioned by infrastructure deficit at most, if not all our poorly designed and constructed stadiums. For those who may not have been privy to the fact, it was a major reason for the exit of Supersport which also had issues with the forex.
In terms of value, the NPFL crashed to Ground Zero of Broadcast rights and the recent selling of the NPFL Broadcast rights to StarTimes is a helluva leap for the renewed hope for our domestic league which began with the defunct Interim Management Committee (IMC) that was the forerunner to the substantive NPFL Board led by Hon Gbenga Elegbeleye.
Interestingly, the cry of 'put our league on television' has become muted and morphed to excoriating comments on value of the deal in comparison with other African countries.
For proper perspectives, the NPFL deal over five years goes in progression of ₦1.06b, ₦1.10b, ₦1.20b, ₦1.25b and ₦1.30b bringing a total of ₦5.91b which at the official exchange rate is approximately $7.7m.
In January this year, the Ghana Premier League which has enjoyed a relatively stable broadcast rights market signed a similar five years deal with same StarTimes for $5.25 which is a flat $1,050,000 per year.
Like Nigeria, Ghana also suffered from the withdrawal of South Africa based Supersport from broadcast relationships.
In Tanzania, the Bakhresa Group based in Dar es salaam bought the Tanzania Mainland Premier League broadcast right through their Azam TV for £7, 500,000. Bakhresa is an indigenous founded company just as South Africa's DStv that bought the Premier Soccer League (PSL) in the country for approximately $119.3m.
It is not fair to compare the television broadcast market strength of Nigeria with some of these countries and it is perhaps only two groups of people who would not appreciate what the StarTimes deal represents for the NPFL going forward.
The first are clout chasers who want to be heard irrespective of their inability to properly read the market dynamics and make an honest informed commentary. The other are those who innocently do not understand the workings of broadcast marketing but would love to see games on television.
Today, the English Premier League (EPL) is considered the most valuable in terms of Broadcast sales at £4.896b spanning 2022-2025 but it hasn't always been this rich but has been an outcome of a foundation built since 1992 with the British Government and private businesses working together to develop a football economy that has not only created jobs but also become a major contributor to the Gross Domestic Product. Due to the power of television, the EPL has created a Football Tourism industry in the United Kingdom including a global capital inflow from sales of broadcast rights.
Elegbeleye, as the Chairman of the IMC and now NPFL did offer an assurance that his team would take all necessary steps to actualise the return of the matches to the screens. During the IMC one-season tenure, the league acquired a Broadcast Streaming Partner in Propel Sports Africa (PSA) that became one of the country's Direct Foreign Investment (DFI) channel during the tail end of the President Muhammadu Buhari administration as they brought in expensive high technology ten Artificial Intelligence Cameras, set up office and trained over 50 Camera Operators who now work with over 30 Commentators to produce matches for Over The Top (OTT) subscribers on mobile devices and on the web.
And most recently, as the NPFL Board, a Direct to Home (DTH) cable satellite deal has been consummated with StarTimes which achieved a two fold objective of generating revenue for the league/clubs and also domestic and international exposure to our players. This is in fact, a response to the yearnings of many football stakeholders spanning fans, clubs, players and businesses that will take advantage of the platforms to reach existing and potential customers.
For the very first time, we have a board that has secured for our league, two broadcast platforms – OTT and DTH, a bundle with rich potentials to "make our league blow" as they say on the streets.
It is not fair to accuse the NPFL Board of not advertising for an open bid when the league has been lying fallow without sponsors of any level. For those who canvassed open bidding, you are invited to table a bid for other partnership sectors such as Official Bank, Telco, Beer, Insurance and any industry sector you may wish. The time is now as the NPFL is like a train on gradual acceleration and would take in as many as shows up before it reaches cruise level.
Beyond the figures and all, Elegbeleye made the point that he is enthused by the opportunities that televising matches will bring to the league value chain. "We are going to see a reduction in judgement errors by match Referees, whether it is deliberate or out of incompetence because knowing that they are being seen live in action will make them do the right thing".
The revenue from this deal will in addition to generating additional income for clubs to take care of some of their running expenditures also stabilise the NPFL resolve to pay match indemnity of Referees and Match Commissioners. More critically, the NPFL staff can work with added commitment knowing that there would be enhanced and sustainable welfare package.
StarTimes will by February be producing and airing four games and by the next season, it would grow to eight games every matchday. This also places the NPFL amongst the leading global leagues broadcast-wise. NPFL lovers will by next year see all matches from their homes or from the palm of their hands through the OTT Platform. It is indeed a win win situation for everyone.