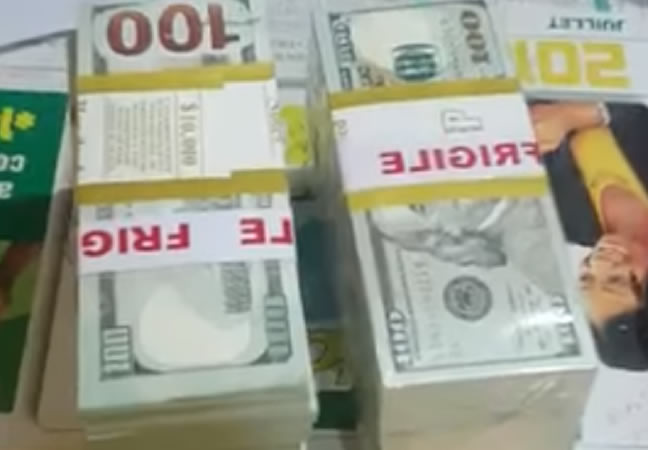 NIGERIAN CUSTOMS SEIZED FAKE $10,000, HANDS OVER TO EFCC
Read Time:
1 Minute, 50 Second
Authorities from the Economic and Financial Crimes Commission have received the seized counterfeit $10,000 from the Nigeria Customs Service, according to the Murtala Muhammed International Airport Command.
As per the statement released on Saturday by the Public Relations Officer of the command, Juliana Tomo, a 41-year-old suspect named Ifeanachor Ugbor was taken into custody in relation to the seizure.
She said that the suspect had broken Nigeria's Money Laundering (Prohibition) Act by travelling to Brazil.
Less than two months after Charles Orbih, the new Customs Area Controller, was redeployed from Abia/Imo Area Command to MMIA, according to Tomo, the command made this seizure.
"Considering Section 15 of the Money Laundering (Prohibition) Act, 2011 (As Amended) Act No 11, 2011 and Act No 1, 2012, which entails the money laundering offences, a passenger contravened a part of this section within our jurisdiction.
"This passenger, Ifeanacho Ugbor, is a 41-year-old Nigerian from Enugu State with a valid Nigerian Standard Passport No. B00033052 who was scheduled to travel from Murtala Muhammad International Airport with the Ethiopian Airline (flight ET900) to Brazil on Friday 10th November 2023 was suspected to have contravened the Money Laundering (Prohibition) Act of Nigeria," she said.
The spokesperson said the suspect was restrained from traveling and detained for further investigation.
"The suspect, having declared the sum of $10,000 on our currency declaration form, our officers took a step further to examine the currency in line with section 66 of the Nigeria Customs Service Act 2023, and the officers discovered that the sum of $10,000 was all counterfeit," the statement noted.
The Customs Area Controller in charge of the command, Orbih, said that the achievement was a result of the due diligence of the officers.
"We have eagle eyes officers in this command, they are ready to work for 24 hours of the day and seven days of the week combating all customs-related crimes and bringing to the limelight the perpetrators," he added.
"We hereby hand over the sum of $10,000 counterfeited currency to the EFCC, the suspect, a valid Nigerian Standard Passport No. B00033052, two phones and his baggage for further necessary action," he concluded.