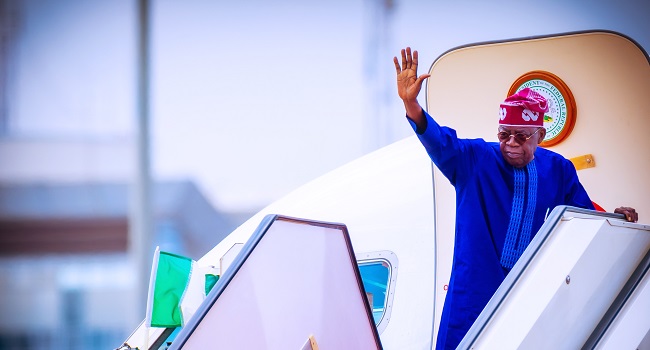 TINUBU HEADS TO GERMANY FOR G20-AFRICA CONFERENCE
Read Time:
1 Minute, 37 Second
President Bola Tinubu has departed Abuja for Berlin, Germany, to attend the G20 Compact with Africa Conference on November 20, 2023, hosted by German Chancellor, Olaf Scholz.
"The G20 CwA Conference will take place alongside the fourth G20 Investment Summit co-hosted by the German government and German business associations," according to a statement signed by Tinubu's Special Adviser on Media and Publicity, Ajuri Ngelale, on Friday.
The statement was titled, 'President Tinubu attends G20 'Compact with Africa' conference in Berlin as energy, trade, and investment top agenda.'
During the conference, Tinubu will join other Heads of State and Government of CwA member countries, bilateral partners, as well as heads of international organisations to deliberate on the immediate enhancement of economic and business cooperation to outline concrete measures to boost investments in critical areas such as energy, trade, infrastructure, and new technologies, among others.
Ngelale noted that the President would sustain his momentum in advancing the cause for foreign direct investment in Nigeria as he leads the country's delegation to participate in the investment summit.
The visit is also President Tinubu's "commitment to diplomatic reciprocity as the invitation to Germany from the German Chancellor is being honoured following the visit of the German Chancellor to Abuja and Lagos, Nigeria, from October 29 to October 30, 2023."
In his discussions with Chancellor Scholz in October, President Tinubu highlighted the imminent need for more German companies to invest in the Nigerian market across multiple sectors of the Nigerian economy, such as transportation, mining, and energy, while noting that Nigeria remained Germany's second-largest trading partner in Africa.
Nigeria and Germany, being the largest economies in Africa and Europe, respectively, recorded an increase in bilateral trade volume from two to three billion Euros between 2021 and 2022.