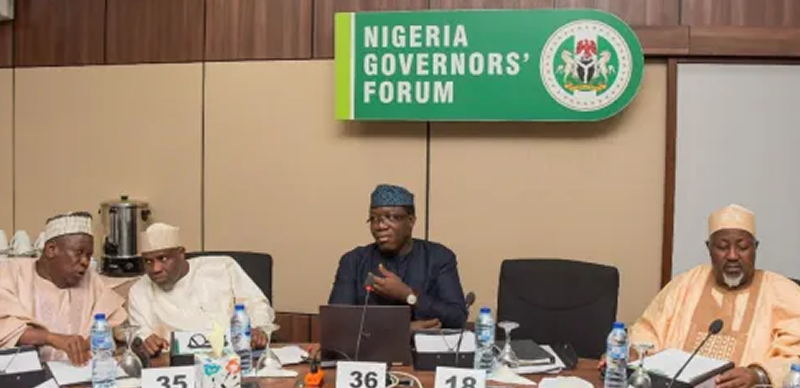 ONDO ATTACK: NGF DONATES N50 MILLION TO CATHOLIC CHURCH
Read Time:
2 Minute, 5 Second
By Adeniyi Onaara 
The Nigeria Governors' Forum paid a condolence visit to Ondo State on Monday to express condolences to the Catholic Diocese of Ondo over the Sunday terrorist assault at St. Francis Catholic Church in Owo, which murdered several parishioners.
Dr. Kayode Fayemi, the forum's chairman and the governor of Ekiti State, held a visit with Senator Ibikunle Amosun, who represents the Ogun Central Senatorial District.
Both of them are believed to have left the All Progressives Congress presidential primary in Abuja for a condolence visit in Ondo.
Ondo State Governor, Mr. Rotimi Akeredolu, escorted the visitors to the residence of Bishop of the Diocese of Ondo, Jude Arogundade.
Fayemi described the ugly attack as least expected.
The Ekiti Governor announced the donation of a sum of N50 million to the church on behalf of the NGF.
He said "It is a serious and unusual attack on the people who can't go out and farm or worship God in peace. We are all shocked. Just like Governor Akeredolu said, these people shall not go unpunished.
They will be hunted down and brought to book. But this can not save the lives that have been lost or save the wounded from discomfort.
"As leaders of the people, we will redouble our efforts. This is happening across the county and we are concerned. We know how troubled you will be. And we know that this is something that troubles our minds.
For now, the government at the state and federal levels is working to bring the perpetrators to book. My colleagues in the Governors forum have asked me to donate N50 million to the Catholic church to ameliorate the condition of the families of the victims. This is a crime against humanity."
Bishop Jude Arogundade, who called the attack as "evil," urged the governors to bring those responsible for the crime and their backers to justice.
"I appreciate you stopping by and leaving a comment. What brought us here? Have we lost our humanity and our minds? Even in the midst of a conflict, no one kills children or women. Nobody opposes the church. "I am writing to you, the country's leaders, because I believe we need to communicate and be honest with ourselves."
This will not be possible without the help of some influential individuals. Those responsible, no matter how powerful, must be brought to justice.
How are we portraying ourselves as savages? Ondo State is not deserving of this. This is not what humanity deserves.