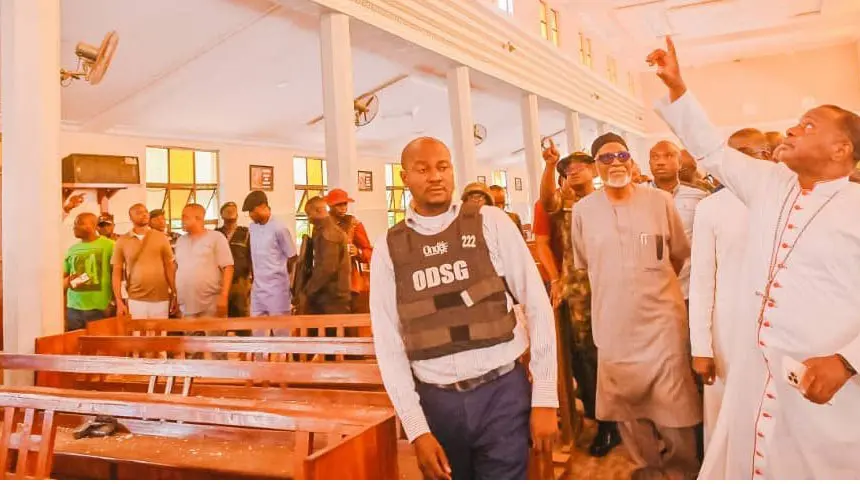 ISLAMIC COUNCIL TELLS FG TO GIVE SECURITY AGENCIES ULTIMATUM TO PRODUCE KILLERS AFTER OWO CHURCH ATTACK
Read Time:
1 Minute, 24 Second
By Adeniyi Onaara 
On Monday, the Nigerian Supreme Council for Islamic Affairs condemned the alleged terrorist attack on St. Francis Catholic Church in Owo, Ondo State, calling it a crime against humanity and a severe and unfathomable evil.
The organization also urged governments at all levels to issue and enforce an ultimatum to security forces to identify and prosecute anyone who violated not just the sanctity of life but also the sanctity of faith.
In a statement issued by its Director of Administration, Zubairu Haruna Usman-Ugwu, the NSCIA, led by its President-General and Sultan of Sokoto, His Eminence, Alh. Muhammad Sa'ad Abubakar, said: The killing should be seen as a direct attack on all law-abiding individuals by all persons of different faiths.
Many worshippers are claimed to have been brutally slain, while others have been gravely injured.
"It is a crime not only against humanity, but also a grievous and unfathomable sin," the NSCIA stated. All peoples of faith should see this as a direct attack on all law-abiding citizens, and should be at the forefront of efforts to stop the evil that looks to be threatening humanity's life, property, and integrity, particularly that of believers in God.
The council also calls on governments at all levels to issue and enforce an ultimatum to security agencies to uncover the culprits' identities and bring them to justice.
"In this time of immeasurable sorrow and distress," the NSCIA declared, it "stands in unequivocal solidarity with the Christian Association of Nigeria, the Catholic community, the government and people of Ondo State, and commiserates with the families of the victims."
"May Allah bless our nation with peace and security," the council concluded.