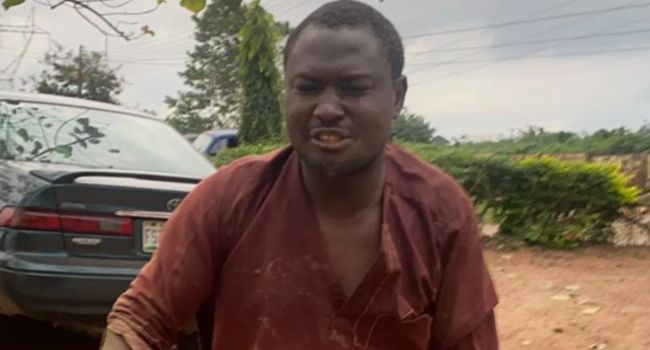 MURDER: "I ONLY INJECTED HIM WITH PLACEBO" – MEDICAL DOCTOR ACCUSED OF KILLING UBER DRIVER
Read Time:
2 Minute, 9 Second
Police discovered 'Sniper', two used diazepam ampoules, and a used syringe in the victim's car.
Farouq Oduola A.
Contrary to accusations that he administered a deadly injection to the victim, Adeyemi Abbas Adio, the medical doctor who was arrested by the police in Osun for allegedly killing Uber driver, Emmanuel Oyiobo in Benin City, Edo State, claims that he administered painkillers instead.
Adio, whose medical degree from the University of Ilorin, Kwara state was confirmed, stated he had gotten to know Oyiobo during previous trips to Benin City and Oyiobo frequently drove him around. He holds a medical degree and was employed as a medical officer at the state-owned Kaiama General Hospital in Kwara State.
He claimed that Oyiobo complained about recurrent discomfort he experienced in his lower limb as a result of a prior fracture he had suffered. He claimed that despite giving the victim some oral analgesics, the pain continued, necessitating the victim's request for stronger painkillers, preferably injectables. Adio stated he complied with the request but ultimately made the decision to just give the victim a placebo (an injectable). He then bought water for injection and vitamin B complex, reconstituted them, and gave them to the patient intravenously.
Adio claimed that after receiving the medication, the victim began shivering, went into convulsions, and passed away inside the car.
Adio claimed that out of confusion and panic at the turn of events, he drove the victim's car with the body to Oluku (outskirt of Benin City) where he dumped the body in a nearby bush.
In his statement, still acting confused he drove the victim's car to Osun State where he was eventually arrested by men of the Nigerian Police and brought to Benin City where he then took the Police to the site where the victim's body was dumped.
After the Police received a distress call that a Toyota Camry car had been stolen in Benin City and tracked to Osun State, Adio was detained along the Ejigbo/Ogbomoso road.
According to the police's investigation, they discovered 200ml of  insecticide (Sniper), two used diazepam ampoules, and a used syringe in the victim's car. It was claimed that the suspect injected the victim with these substances on purpose with the intent to kill him and flee with his car.
Following the word of the arrest, Dr. Imoisili Udoka, the chairman of the Nigerian Medical Association (NMA), Edo state branch, paid a visit to the Edo State CID of the Nigerian Police, Benin, where he received the revelation from Adio.