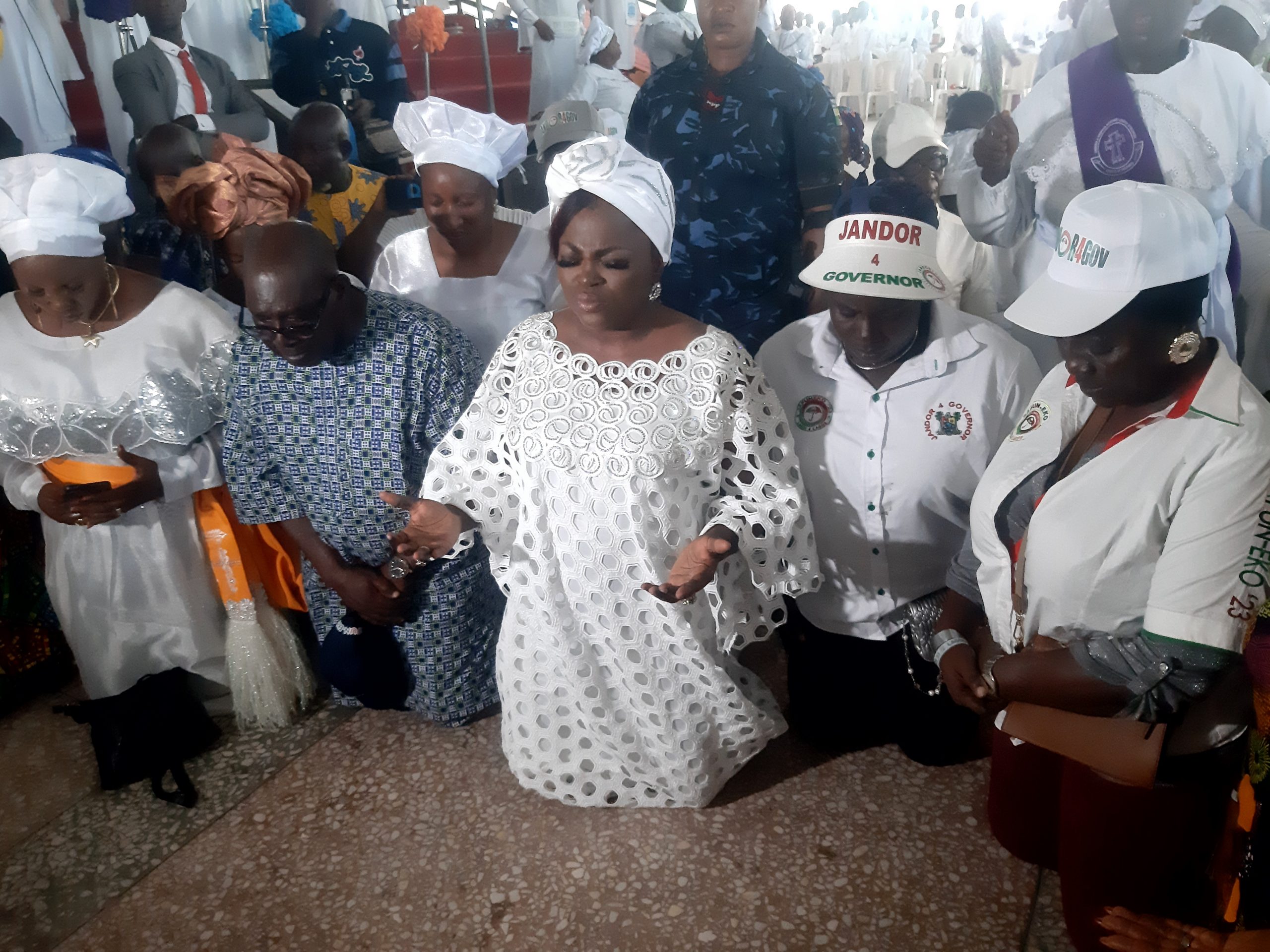 2023: GOD CALLED JANDOR AND I TO CHANGE THE STORY OF LAGOS – PDP RUNNING MATE, FUNKE AKINDELE
Read Time:
1 Minute, 37 Second
The deputy governorship candidate of the People's Democratic Party in Lagos, Olufunke Akindele, insisted that it is God that called Adediran and herself to change the story of Lagos state.
Akindele made this remark on Oct. 23rd, while addressing the congregation at the Sunday worship in Ayo Ni O Cherubim and Seraphim Movement Church, Surulere district Badagry Circuit LGA.
PDP visited several wards in Badagry as campaign ahead of the 2023 gubernatorial election continues in Lagos.
In her statement, the veteran Nollywood actress who suspended her acting career several months ago to contest in 2023 said God has been with her from the get go and he is involved in her aspirations to make Lagos state work for all segments and divisions of the state.
"I give God all the glory for what he has done.
"We were called by God, if not we would have backed out. People have suffered, but God has called us and put us forward to come and change the story of Lagos. The success of Lagos is ours," she said.
The chairman of the Christian Association of Nigeria, Badagry LGA, Pastor Sunday Hunyonbo JP., who was in attendance commended Akindeke and Adediran for seeking seeking God's blessings in their journey.
Speaking on behalf of CAN, Hunyinbo urged Akindele and her principal to live the talk and fulfill all the promises made to the people during their campaigns if they emerge governor in 2023.
"When the time of election comes, politicians will come around, promising heaven and earth but at the end of the day, they are all empty promises"
"Badagry has been marginalised for too long and we want that to change. We will keep praying for you.
"I'm neither a PDP,  APC or Labour party member but God's will shall prevail."
Adediran continues his tour, holding meetings with traditional and community leaders and soliciting support of the people across all the wards in the division.