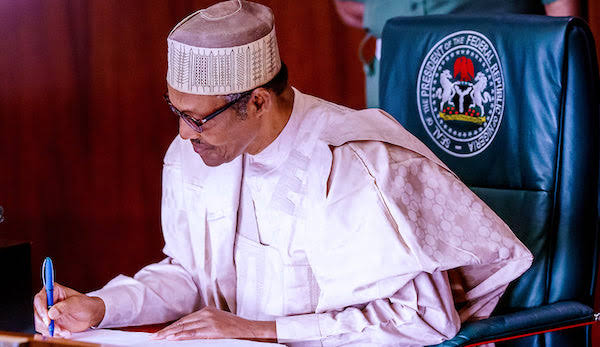 BUHARI APPROVES REDESIGN, PRODUCTION AND CIRCULATION OF NEW NAIRA NOTES
Read Time:
1 Minute, 55 Second
By Adeola Abdullah
President Muhammadu Buhari approves redesign, production, and circulation of new series of N200, N500, and N1,000 banknotes.
Central Bank of Nigeria Governor, Mr. Godwin Emefiele says the issuance of new Naira banknotes, 20 years after last redesign exercise, will commence December 15, 2022.
CBN says new and existing currencies shall remain legal tender and circulate together until January 31, 2023 when the existing currencies shall cease to be legal tender.
CBN frowns at high rates of counterfeiting of N500 and N1,000 banknotes.
CBN says Bank seeks to mop up about N3.32 trillion outside the banks' vaults to take control of money supply in Nigeria.
"The integrity of a local legal tender, the efficiency of its supply, as well as its efficacy in the conduct of monetary policy are some of the hallmarks of a great Central Bank," – Emefiele
CBN faults hoarding of banknotes by members of the public; says over 80 percent of currency in circulation are outside the vaults of commercial banks.
CBN directs all Deposit Money Banks currently holding the existing denominations of the currency to begin returning these notes to the CBN immediately
Newly designed currency to be released to the banks in the order of first-come, first-served basis.
CBN advises bank customers to pay existing currency into their bank accounts to enable them to withdraw the new banknotes once circulation begins in mid-December 2022.
CBN suspends bank charges for cash deposits for the purpose of transition from existing to new notes.
CBN says that the present notes remain legal tender and should not be rejected as a means of exchange for the purchase of goods and services.
"The CBN would continue to monitor both the financial system in particular, and the economy in general, and always act in good faith for the achievement of the Bank's objectives and the betterment of the country" – Emefiele.
Emefiele pledges that the interest of rural bankers will be protected in the transition from existing to new currencies.
CBN Governor optimistic that new currency will have a positive impact on inflation.
Emefiele says redesigned currency will help Bank's drive to deepen cash-less policy and complement increased minting of eNaira.