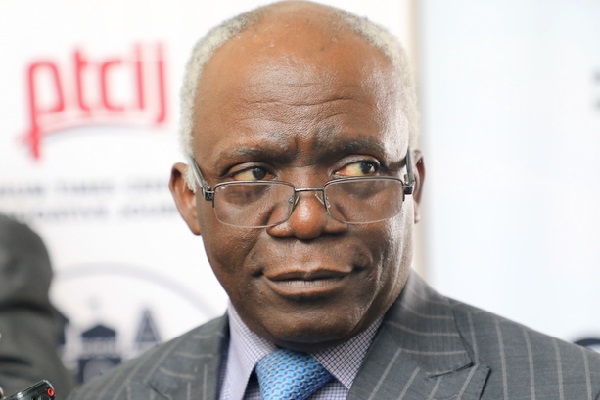 PENSION: FALANA URGES AKPABIO, OTHER EX-GOVS TO FOLLOW DANIEL, DANKWAMBO'S LEAD
Read Time:
1 Minute, 46 Second
Femi Falana, SAN, a human rights attorney, has encouraged Senate President Godswill Akpabio, as well as other former governors in the legislative and executive branches, to follow Senators Daniel and Dankwambo's lead and immediately refuse to pay "illegal pensions."
The request was issued in a statement on Sunday by Falana, the chairman of the Alliance on Surviving COVID-19 and Beyond.
"Senators Gbenga Daniel and Ibrahim Hassan Dankwambo have requested the governors of Ogun and Gombe States, respectively, to stop paying them the scandalous pension," the senior attorney recalled, in accordance with court orders.
At a time when at least twenty former governors hold double salaries in the executive and legislative branches of government, he praised Daniel and Dankwambo for their actions.
Falana claims that on November 26, 2019, retired Justice Oluremi Oguntoyinbo issued a historic ruling in which he ruled that the pension payments were unlawful and unconstitutional.
"Consequently, the Court ordered the Accountant-General of the Federation and Minister of Justice to recover the life pensions collected by former governors serving as Senators and Ministers.
"Similarly, in suit NO: NICN/JOS/26/2016 (Alhaji Garba Umar v Taraba State Government) Justice K. I. Amadi of the National Industrial Court declared as null and void the payment of pension and gratuity to former governors and deputy governors. The pension was provided for in Taraba State Governor and Deputy Governor's Pension Law 2015," the statement read in part.
Falana has made a strong case against giving pensions to former governors, particularly those who were promoted to the Federal Executive or elected as lawmakers following their terms in office.
Additionally, the Socio-Economic Rights and Accountability Project (SERAP) contested the constitutionality of the pension given to former Nigerian governors in Federal High Court case FHC/L/CS/1497/2017, which was brought against the Attorney-General of the Federation.
While Dankwambo was the governor of Gombe State from 2011 to 2019 and is currently the senator for Gombe North Senatorial District, Daniel was the governor of Ogun State from 2003 to 2011 and is currently the senator for Ogun East Senatorial District.