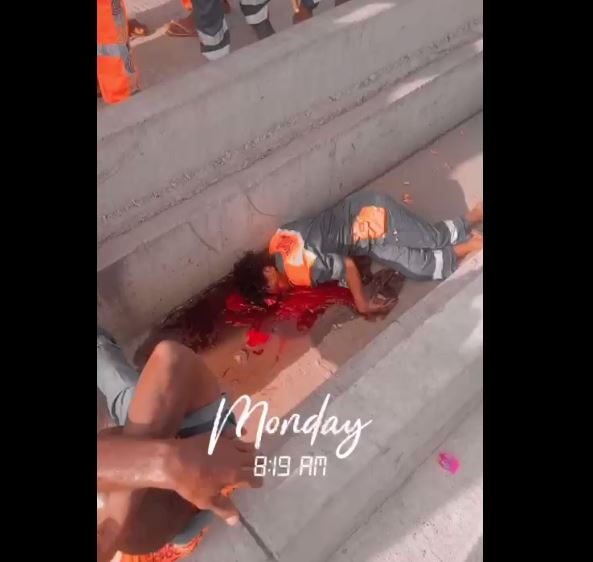 UPDATE: DRIVER TURNS HIMSELF IN TO POLICE AFTER CRUSHING LAWMA OFFICIALS TO DEATH
Read Time:
1 Minute, 15 Second
The driver of the Honda saloon with the licence plate EPE 984 DV, which collided with the sweepers from the Lagos State Waste Management Authority on Monday morning as they were performing their duty on the Gbagada Motorway, has turned himself in to the police.
Our correspondent received confirmation of the development on Tuesday from SP Benjamin Hundeyin, the public relations officer for the state police.
According to Hundeyin, the driver will face manslaughter charges in court on Tuesday.
"The owner of the Honda sedan turned himself in last night (Monday), and he will appear in court today for manslaughter," the speaker stated.
"It was not murder, it was an accident and was not deliberate, so he will be charged with manslaughter."
It was previously claimed that the driver fled his vehicle after smashing the two LAWMA sweepers.
It was said that in an apparent attempt to flee from Lagos State Traffic Management Authority authorities, he crashed into the sweepers.
In a statement released on Monday night, the Ministry of Transportation, however, refuted the claim that LASTMA officials were involved in the mishap and promised to take appropriate action against anybody proven to be at fault.
The statement partly read, "Immediate investigation revealed that no LASTMA officer was involved in the unfortunate incident.
"The Ministry of Transportation wants to assure members of the public that the outcome of the police investigation will be made public and anyone found culpable would be made to face the consequences of the law."
1
0
Nigeria Premier Football League (NPFL) has sympathised with the Management of Sunshine Stars FC whose players and Officials were attacked...