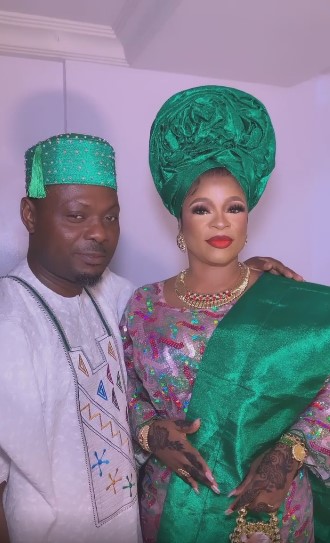 "I'M SATISFIED WITH WHAT I HAVE"- DESOLA AFOD,WIFE OF KUNLE AFOD
Read Time:
1 Minute, 16 Second
BY: THURAYA ABIOLA RASHEED-YUSUF
Desola Afod, the wife of Yoruba actor Kunle Afod, has affirmed her lifelong commitment to him, weeks after fighting her husband's alleged side chick.
The mum of three got into a heated argument with a female troll who claimed to be pregnant for her husband.
The alleged side chick had targeted her actor husband, Kunle Afod, who is notorious for cheating.
The alleged side chick mocked him by claiming to be pregnant for him.
"Afod wey his dick no stay one place. We don born for ur husband". According to the alleged side-chick
Desola, who was enraged by her remark, did not hesitate to lash out at her as well as daring the troll to confront her using her original account.
Meanwhile, Desola vowed that she would never leave her husband. With the caption, "You don't have to use a false account if you're bold. Even if you do…. I won't leave him."
Desola Afod reaffirmed her words, assuring her husband of her love for him.
No one is perfect, according to the self-proclaimed celebrity wife.
In a message to her fans, she advised them to be content with the person they have and to enjoy life with them.
She described Kunle Afod as her destiny husband and stated that she would continue to choose him again and again.
"No husband or wife is perfect. Be satisfied with the one you have and enjoy life together. I'll choose you over and over  my destiny husband @kunleafod
0
0
By Adeniyi Onaara  Nigerian superstar Rema has maintained his chart dominance, with his hit single 'Calm Down' reaching a new...