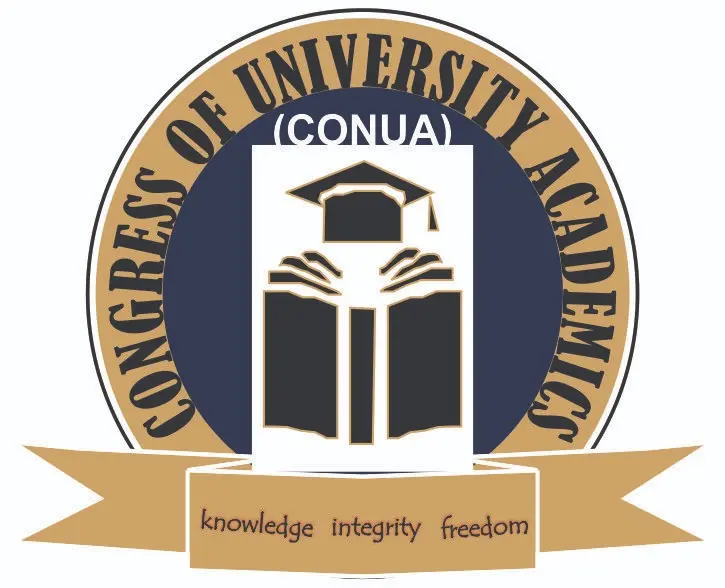 #ASUUSTRIKEMUSTEND: CONUA ORDERS IMMEDIATE RESUMPTION OF WORK
Read Time:
1 Minute, 41 Second
The Congress of Nigerian Universities Academics (CONUA) on Tuesday, 4th October, 2022 ordered all its members to resume work on Wednesday (Today), adding that any type of attack by the Academic Staff Union of Universities (ASUU), should be reported immediately to the university management.
This development was mentioned in a statement signed by Prof V.O Igbineweka, the Chairman, CONUA UNIBEN .
He thanked the Federal Government for recognizing and registering the union while urging all its members to commence immediate teaching and project supervision as the pending salaries will be paid along with October and November salaries respectively.
Hotjist.com earlier reported that on Tuesday, the Federal Government had registered two factional academic unions namely CONUA and the National Association of Medical and Dental Academics (NAMDA).
While these factions were registered, the Minister of Labour and Productivity, Chris Ngige explained that the two bodies will exist alongside ASUU, adding that the two associations will enjoy the rights and privileges accorded to other academic unions in the tertiary education system.
Recall that ASUU has been on strike since February 14, 2022, over unpaid allowances, poor welfare, and payment software, among others.
The statement reads in parts: Congress of Nigerian Universities Academics (CONUA) held an emergency meeting today 4th October, 2022 at the Uniben Sports Complex car park between 3 and 4.30pm and unanimously resolved that:
1. Members should resume work unfailingly tomorrow Wednesday 5th October, 2022.
2. Any attack, physical or verbal by any member(s) of the striking ASUU should be promptly reported to the university management.
3. Members should commence teaching and project supervision immediately.
4. Members were briefed and assured that March, April and May salaries will be paid along with October salary while June, July, August and September salaries will be paid with November salary.
5. Members were further informed that the IPPIS payment platform has been modified to accommodate all academic earned allowances.
6. Members expressed appreciation to the federal government for the recognition and registration of our great, dynamic and responsible union.