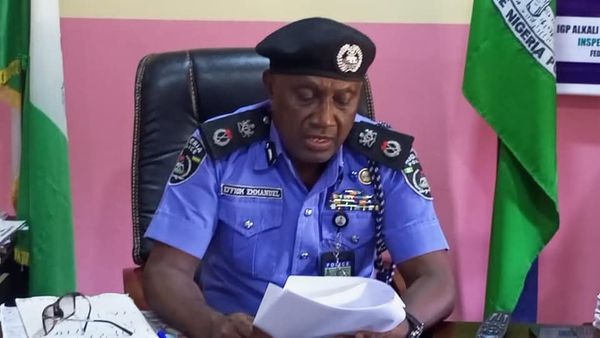 POLICE IN JIGAWA STATE ARREST BANDITS, KIDNAPPERS; RECOVER WEAPONS
Read Time:
7 Minute, 9 Second
BY DAMILOLA LAWRENCE
The Jigawa state commissioner for police, Emmanuel Ekot Effiom, expressed his appreciation to the good people of Jigawa State for the cooperation accorded to the Police and other Security agencies in the state.
He said "Indeed, without your cooperation the Command could not have succeeded in maintaining the existing relative peace. In addition, it is my pleasure to stress here that, Jigawa State is still relatively peaceful. People in the State are going about with their day-to-day activities without any fear. The security measures put in place by the Jigawa State Police Command in the fight against crimes and criminalities are paying off, as the Command was able to make some arrests during the period under review".
According to him, "Hoodlums armed with sticks, entered the residence of one Alh Mati 'm' 40yrs of Mairoba Fulani settlement camp Jeke, SuleTankarkar LGA border with Niger Republic, 20th of august 2022 at about 2:10pm. sighting the hoodlums, the said Mati managed to escape".
"The Hoodlums searched the house and carted away, the sum of eight hundred thousand naira (₦800,000) inside his room".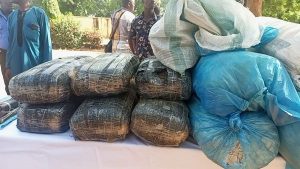 However, on 20th of September 2022 at about 5:30, men on surveillance, suspected and arrested one Mustapha Shehu alias Maina, aged 25yrs of Yandamo village, Sule tankarkar LGA with unregistered new brand Kasea Motorcycle waiting for repairs at a workshop in Maigatari LGA.
During the process investigation, the suspect was identified as a member of syndicate terrorizing the state with Armed Robbery. When interrogated the suspect confessed to have participated in the above mention case. Case is under investigation at SCID Dutse.
The state police command also talked on criminal conspiracy, culpable homicide and kidnapping.
He said," Following sustain Intelligence on movement of Kidnap syndicates terrorizing Kano and Jigawa States".
"On the 8th of October 2022, at about 1730hrs, Police operatives attached to the Command covertly trailed and arrested a notorious member of late Maigari gang of Kidnappers, named Mansir Abdullahi Alia's Yaro Yaro, 22yrs from Malam Bako Nomadic Herdsmen Settlement Camp, Sule Tankarkar LGA, Jigawa State".
During the course of preliminary Investigation, suspect confessed to belong to the gang of Kidnappers, used as supplier of food to the Kidnapped victims and Armorer for safe keep of arms to the group.
The suspect further confessed to have been entrusted with about three rifles for safe keeping by their late gang leader named Maigari, recently killed in Niger Republic, but thereafter collected the riffles after the demise of the gang leader.
Discreet investigation conducted, led to the arrest of one Adamu Ali 'm' aged 65yrs alias Baba Uban Jumurda of Rigar Maigawo Fulani Settlement Camp, Birniwa LGA. The said Adamu Ali confessed to belong to the same syndicate, he further added that, this Yaro Yaro is a driver to the late gang leader (Maigari), he also harbored three Kidnapped victims in his house and confessed to be Animal rustler and receiver of stolen Animals.
However, Investigation further revealed that the same group, is responsible for the Kidnapping in Taura LGA, where one Alh. Ma'aruf Abubakar 'm' of Kwalam town, was kidnapped and two Police Officers were killed while responding to a distress call.
Kaugama LGA, where one Alh. Bala Adamu 'm' of Kaugama town was kidnapped, while one vigilante member Alh. Sajo was killed in his residence.
Three cut to size locally made guns were recovered.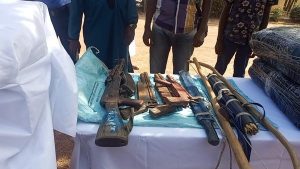 Information was received from a source on 5th of October 2022, that on the same date at about 1230hrs, a large number of herders had trespassed and were grazing on farmlands at Warere village, Guri LGA.
On receipt of the information, Team of Policemen from Guri Division, Operation restore peace, Operation Salama, Farmers and Herders Committee members, mobilized and rushed to the scene. However, on sighting the joint patrol teams, the herders attacked them with bows and arrows shooting indiscriminately.
In the process, one Staff Sergeant Danladi Damjuma attached to Operation Salama was shot with arrow by the herders, his AK 49 riffle was carted away. Corpse was evacuated to Primary Health care Guri and confirmed dead by medical Doctor.
Meanwhile, on 11th of October 2022, following intense investigation conducted by detectives from SCID, the missing AK 49 riffle was recovered at outskirt of Guri town and brought to the station. Effort is being intensified for the possible arrest of the fleeing culprits.
On 10th of October 022, at about 1815hrs, one Ibrahim Saleh of plot 232 Yalwawa quarters, Dutse reported that, on the same date at about 1730hrs, he parked his Motor vehicle Honda Civic 98 model, ash in color, with registration number GML 112 JA, in front of his house, but when he came out, he saw a person removing the car from where he parked it earlier.
He immediately alerted the Police on Patrol and good Samaritans, where the thief was pursued, as a result he abandoned the car and run into a farmland before he was arrested and taken to the Police station for interrogation. The suspect gave his name as Adamu Ali 'm' aged 30yrs of Potiskum LGA Yobe state. When searched, a master key and three (3) different vehicles plate numbers were recovered.
However, during the course of investigation, suspect confessed to have stolen a motor vehicle, Honda Civic, green in color, belonging to one Salmanu Adamu Rishi 'm' of Takur Site Dutse, Jigawa state and boarded it to Kano state before team of detectives from SCID recovered the vehicle and brought to the office for discreet investigation. Suspect will be charged to court upon completion of investigation.
On 18th of October 2022 at about 0700hrs one Abdulkadir Alhassan 'M' aged 42yrs from Sabon Sara village Ringim LGA, a Notorious Armed Robber and Kidnapper who has been prosecuted severally for Robbery cases. A wanted person who jumped bail in a case of criminal conspiracy and Armed Robbery at magistrate court Babura. Suspect have been arrested and confessed to have kidnapped so many people from both Jigawa and Kano states. He also confessed to have collected millions of naira from victims' families as ransom. In the same vein, he indicted one Alhassan Ya'u AKA Kato 'M' aged 45yrs from Dogamare village in Ringim LGA as their gang member.
The two suspects are currently under detention, undergoing interrogation at SCID Dutse. They will be charged to court for prosecution.
On 18th of October 2022 at about 1800hrs following a tip off, Team of Policemen, arrested one Uzairu Adamu 'M' aged 21yrs from Yandutse village Ringim LGA, with ten(10) and half bags of dry leaves suspected to be Indian hemp in his room. The suspect confessed to have received the exhibits from one Zaidu Galadima a truck driver from Malamawa village Ringim area, who was also arrested. Case is under investigation at SCID Dutse.
According to sustain intelligence about the activities of cross border kidnapping syndicate terrorizing Kano and Jigawa States.
On 20th of October 2022 at about 1120hrs, operatives attached to the Command, trailed and arrested a high profiled member of the syndicate who was disastrous to replace late syndicate leader Muhammad Bello, 50yrs of Dunkura Sullubawa Herdsmen Settlement Camp, Dunkura village, Bunkure LGA of Kano State, at Rano LGA of Kano State. Suspect voluntarily confessed to have actively coordinated Armed Robbery in Shuwarin, Aujara, Yalleman and Dakaiyyawa, areas of Jigawa State and Kidnapping in Katsina State. Suspect is giving useful information for further arrest of his other syndicate members. SCID is investigating the case.
The state Commissioner Of Police, Emmanuel Ekot Effiom, " in conclusion, it is relevant to state that as criminals do device ways to perpetrate their nefarious activities in the state, so the Police are working round the clock to protect lives and property of the good people of Jigawa State. Therefore, the Jigawa State Police Command under the leadership of the Commissioner of Police, CP. Efiom Emmanuel Ekot calls on the entire people of the state to continue to partner with the Police in the fight against crimes. Let me stress here and now that the Jigawa State Command will not relent on its oars of protecting lives and properties of the good people of the state. Let me conclude by thanking and appreciating the State Government for its support at all time and to appreciate all the Security agencies for their collaboration and synergy. We also thank the good people of Jigawa state for their support and to solicit for more cooperation at all time please".