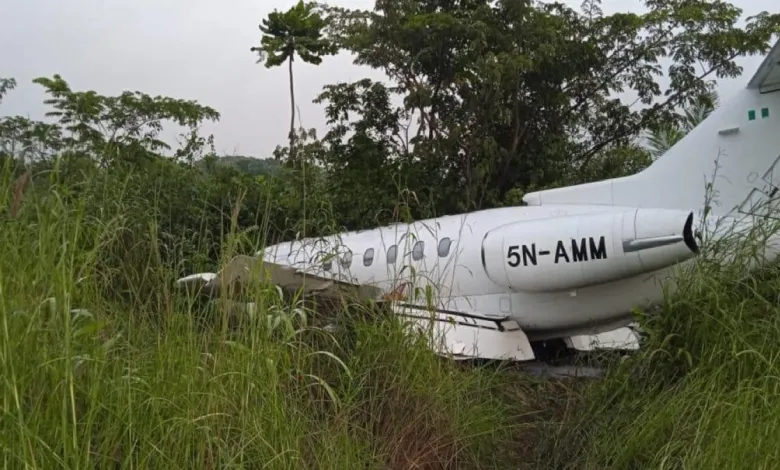 MINISTER OF POWER, OTHERS SURVIVE AS AIRCRAFT CRASH-LANDS AT IBADAN AIRPORT
Read Time:
1 Minute, 0 Second
A private HS25B aircraft operated by Flint Aero made a terrifying crash-landing on the runway at the Oyoo State airport in Ibadan, narrowly avoiding a catastrophe.
The flight, which had departed from Abuja at 6:41 p.m., was carrying several high-ranking government officials.
One such was the Minister of Power, Adebayo Adelabu, and some of his aides aboard the aircraft.
The crash-landing occurred at approximately 7:21 p.m., with 10 individuals on board. Remarkably, there were no fatalities, although the aircraft sustained significant damage.
Vanguard gathered that the pilot had been cleared for an RNAV approach to Runway 22 of Samuel Ladoke Akintola Airport, Ibadan. But the plane skidded off the runway.
Quick and efficient action allowed all passengers and crew members to be safely evacuated.
Probe…
Meanwhile, the Nigerian Safety Investigation Bureau, NSIB, has commenced an inquest.
In a statement made available to Vanguard, the Director, Public Affairs and Consumer Protection, NSIB, James Odaudu, confirmed the accident involving an aircraft operated by Flint Aero at the.
He said: "Please, be informed that the NSIB has commenced an investigation into the cause.
"Our investigators are on site, and further information will be provided as soon as possible."
0
0
The Governorship Candidate of the New Nigeria People's Party (NNPP), Hon. Uche Ben Odunzeh, in the just concluded governorship election...