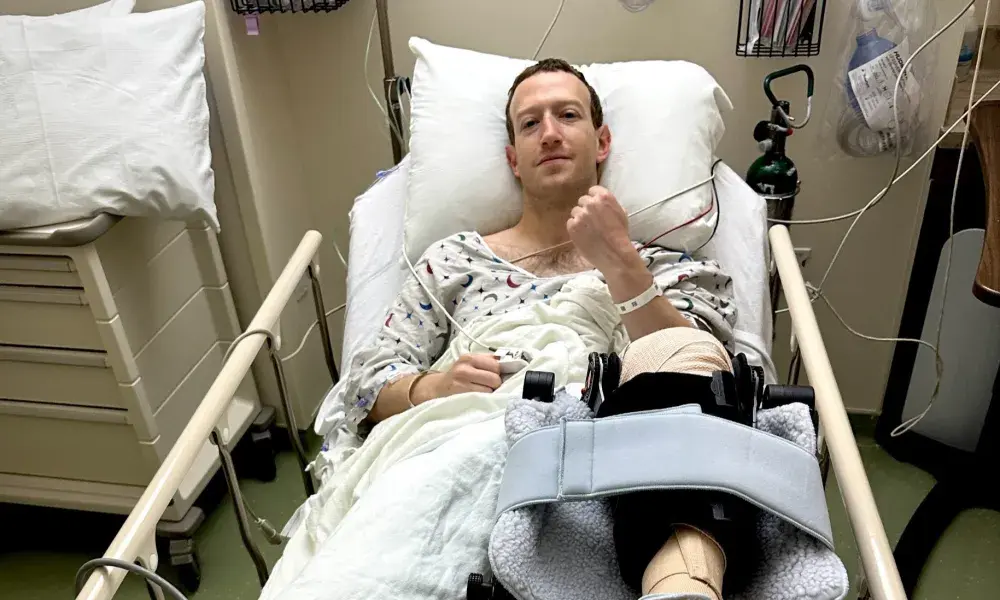 MARK ZUCKERBERG TEARS ACL DURING MMA TRAINING, UNDERGOES SURGERY
Read Time:
1 Minute, 11 Second
Meta CEO and Facebook founder Mark Zuckerberg was forced to get surgery after tearing his ACL while training mixed martial arts.
Zuckerberg said he was scheduled to have an MMA fight early next year – but those plans will likely need to be adjusted.
He shared a number of photos from his hospital bed on Friday afternoon – with the announcement of his ailment detailed in the caption.
'Tore my ACL sparring and just got out of surgery to replace it. Grateful for the doctors and team taking care of me,' the 39-year-old Zuckerberg wrote on Instagram.
'I was training for a competitive MMA fight early next year, but now that's delayed a bit.
'Still looking forward to doing it after I recover. Thanks to everyone for the love and support.'
It's not clear exactly who Zuckerberg was set to fight at the beginning of next year and it hadn't been publicly announced that a bout was scheduled.
He's been seen training with the likes of Henry Cejudo and has befriended top MMA fighters Israel Adesanya and Alexander Volkanovski.
Zuckerberg had been publicly quarrelling with Tesla CEO Elon Musk and challenging his fellow tech billionaire to a fight – but nothing came to fruition.
Both the billionaires blamed each other for why a bout never developed, but Musk went on Joe Rogan's podcast earlier this week and said he'd fight Zuckerberg 'anytime, anywhere, any place'.
0
0
The Federal Inland Revenue Service (FIRS) has waived accumulated penalties and interests on outstanding tax liabilities. The decision was contained...