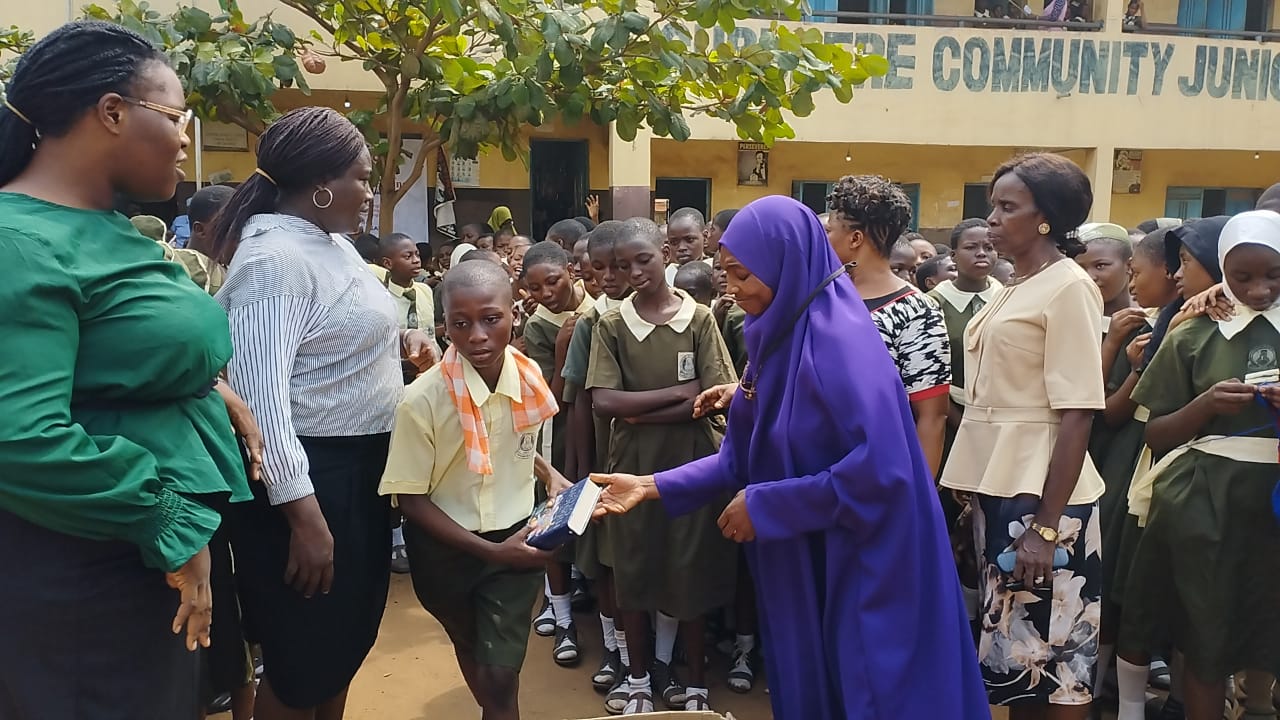 WORLD BOOK DAY: KIDDIES ARENA DONATES BOOKS TO PUBLIC SCHOOL PUPILS IN LAGOS
Read Time:
2 Minute, 4 Second
The World Book Day is celebrated in the month of March every year to appreciate the good work of authors, editors, illustrators and copyright owners. Some of the activities children are encouraged to do on the World Book Day is to dress in their favourite characters' costumes and most importantly, every child gets one or two book gifts. It is in this light that Kiddies Arena Bookstore called for sponsors to donate books every year and those books are being given out to school age children.
The students  of Surulere Community Junior Secondary School, Suberu Oje, Alagbado Lagos and their teachers felt elated on Thursday the 8th of March,2023 as they receive Kiddies Arena Bookstore. The purpose of the visit was to commemorate the World Book Day with them.
The event according to Mrs Latifat Olayiwola Adebayo, the  CEO  Kiddies Arena Bookstore, is a way of giving back to the society and also drives home the point that nothing beats being a reader for readers know a little about  everything.
The principal of the school, Mrs Ogundele, expressed her happiness towards the gesture. While addressing the children, she laid emphasis on the fact that it was indeed a rare privilege for their school to be the first government owned school to be visited in Lagos and she said projects like this will not only help the children remember the almost forsaken reading culture but it will also make them feel loved , remembered and they'd take a lesson that one needs to give back to the society. About 1600 students got a book gift and the smiles on their faces told how glad they were.
When asked about how the books were gotten, Mrs Adebayo told us a percentage of her annual profit from the bookstore was what she started the gifting with but as the years passed by, more books were donated by people. She took a moment to appreciate the people who graced the occasion with their presence; Mrs Ganiyat Arogundade (The proprietress, Precious Sprog Preparatory School),  Hajia Fatimah Salahdeen Omoyele (Proprietress, Fitrah Children's' School and College. Author of 'A journey through Nigeria' and Melanin Minus) and those who donated generously to the project. To mention but a very few; Members of UMAA (University of Ilorin Muslim Alumni Association), Deen Girls (Class of 2002)  and a host of other donors home and abroad.