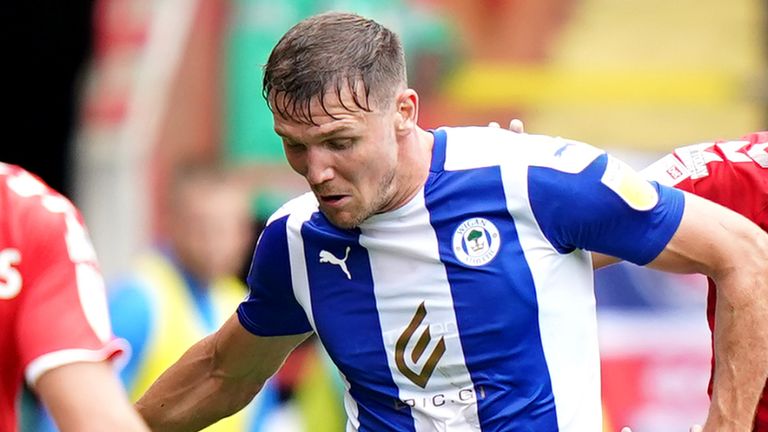 ERIKSEN INSPIRED ME TO RETURN TO FOOTBALL AFTER CARDIAC ARREST – WIGAN STRIKER
Read Time:
1 Minute, 53 Second
Charlie Wyke claims that Christian Eriksen's comeback from a cardiac arrest last summer has inspired him to follow in his footsteps.
During a November training session, Wigan striker Wyke lost consciousness after his heart stopped beating for four minutes.
In an incredible twist of fate, Wigan manager Leam Richardson was first on the scene to perform CPR – just two weeks after the management staff at the club had received training to learn how to perform the life-saving treatment.
Wyke made his comeback last weekend, coming off the bench to set up Wigan's winning goal at Birmingham City. Wyke has a defibrillator implanted in his chest, similar to the one Manchester United midfielder Eriksen has.
The former Sunderland striker has had a difficult nine months and has frequently contemplated retiring as a result of the hospital procedures he had to endure.
Wyke said in an interview: "It was the scariest day of my life. I was just training as normal and then, all of a sudden, I've woken up on the floor, my sleeves cut off, with five staff looking over me. I had no idea what had happened.
"The last thing I remember was walking over to the manager to tell him I was going to collapse but I couldn't get my words out. I then found out later it was actually the gaffer who started the CPR process and got me breathing again.
"That journey to the hospital in the ambulance was so scary. When I got told it was a cardiac arrest I instantly thought my football career was finished. I was absolutely devastated."
Wyke's defibrillator is the same as Eriksen's and is there to shock him should he have another cardiac arrest.
The 29-year-old said: "I remember being on holiday and watching it all unfold with Eriksen in the Euros and thinking 'you've got to be so unlucky for that to happen to you as a player' – and then four months later it was me.
"But Eriksen has given me the inspiration to get back. If he hadn't made the comeback he has, I don't think I would have either. I had to see someone else do it for me to be able to push myself to do it too.