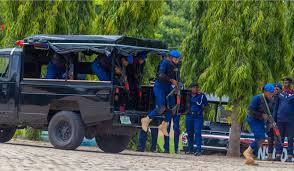 NSCDC ARREST TWO SUSPECTED RAILWAY VANDALS IN KWARA (VIDEO)
The Nigeria Security and Civil Defence Corps (NSCDC) has detained Waheed Ganiyu and Mojeed Afolabi on suspicion of vandalizing certain rail tracks in Kwara.
The Public Relations Officer (PRO)
the NSCDC, Kwara Command, Mr. Ayeni Olasunkanmi, informed reporters in Ilorin on Tuesday that they were captured on August 26.
Olasunkanmi expressed disappointment that some evil people were impeding government efforts to utilize the rail networks in order to ensure that Nigeria's transportation system advanced.
"There are certain criminals who do not support this goal and are determined to render the federal government's efforts ineffective."
"We are on guard to ensure these criminals, who want to make Nigeria uncomfortable, are being brought to book," he said.
According to the statement, the offenders were apprehended while damaging rail tracks near Ogbondoroko in the state's Asa Local Government Area.
He added that the confessional admissions the suspects made about the crime they committed were helpful.
Ayeni also displayed Shehu Nurudeen and two of his accomplices, Abdulwahab Mustapha and Isaiah, who were suspected burglars.
He claimed that the intruder entered a home in Wara, Lubcon Area, Ilorin West Local Government Area, and stole a laptop, a watch, and many phones.
The PRO advised Nigerians to constantly provide security authorities with accurate and timely information in order to reduce crime.
He expressed his disappointment and concern about the otherwise active kids who were turning to criminality.
0
0
The airstrike that occurred at Tudun Biri village in Kaduna State on Sunday, which resulted in numerous villager deaths and...