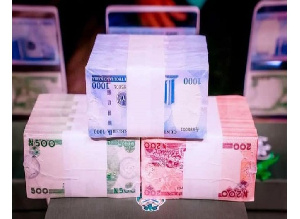 JUST IN: HOUSE OF REPS SUMMON BANKS OVER SCARCITY OF NEW NAIRA NOTES
Read Time:
1 Minute, 37 Second
By Aishat Momoh. O.
Due to the lack of new naira notes, the House of Representatives decided on Tuesday to invite deposit money banks, commonly known as commercial banks, on Wednesday.
Under the auspices of the Bankers' Committee, the Managing Directors and Chief Executive Officers of the banks will meet with an ad hoc committee of the House that will be led by the Majority Leader, Alhassan Ado-Doguwa.
In its plenary session on Tuesday, the House decided that the banks should be asked to explain the alleged Central Bank of Nigeria supply shortage. Following their testimony, the lawmakers would question the apex bank's management.
The House also decided to add a six-month window to the period for exchanging old notes for new ones.
At the beginning of the session, a member of the House from Katsina State named Sara Soli moved a motion of urgent public concern, which was unanimously adopted.
Despite the fact that Nigerians had limited access to the new N1,000, N500, and N200 notes, Soli highlighted that the CBN was pushing for the January 31 validity date.
According to reports, banks' automated teller machines in Lagos, Abuja, and other regions of the nation were still distributing the old notes on Monday, which was eight days before the January 31 deadline.
Despite promises by the CBN and depositing banks that Nigerians would start receiving the new naira notes via ATMs on various platforms, research as of Sunday revealed that many ATMs owned by the financial institutions were still dispensing the old notes.
Godwin Emefiele, the governor of the CBN, was called before the House in December in relation to the central bank's most recent policy, which included restrictions on cash withdrawals from banks and other financial institutions.
Emefiele had twice failed to appear before the House, so the legislators instead interrogated Aisha Ahmad, Deputy Governor, Financial System Stability, Central Bank of Nigeria, who presided over the Committee of Governors.