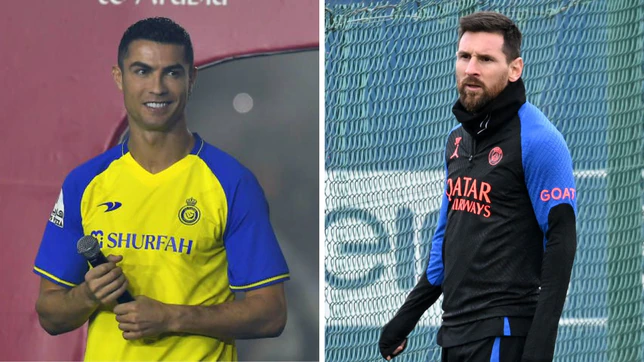 SAUDI ARABIA NOT GIVING UP ON SIGNING MESSI AFTER SEALING RONALDO DEAL
Read Time:
1 Minute, 12 Second
Saudi Arabia is still trying to persuade PSG star Lionel Messi to join Cristiano Ronaldo in elevating their league, despite the World Cup winner negotiating a new deal with Paris Saint-Germain.
According to reports, football officials in the nation have been given the task to "once again prove the ambition of the Kingdom" with readily available financial and commercial support, even though the possibility of signing the Argentina international this summer or in the near future remains open.
The Saudi Pro League is marketing itself as a division of "new dreams" as part of the country's Vision 2030 manifesto, in which the "primary goal is to be an exemplary and leading nation in all aspects."
Al Hilal, who were only scuppered from signing Ronaldo due to a transfer ban that allowed Al Nassr to swoop in, are primed to make Messi – already an ambassador for Saudi Arabia tourism – the highest-paid footballer in the world.
He would earn in excess of £200m a year should he decide to exit PSG for them, and if he stays in Europe, Saudi clubs will only defer rather than dump their pursuit.
The French giants have been confident that Messi, out of contract in June, will remain at the club owing to an agreement in principle reached during the World Cup and public declarations that he's happy in Paris.
However, talks over the past month have not been seamless due to a few sticking points.
0
0
By Adeniyi Onaara  According to reports, the contestant died after paying N25 million for the Labour Party governorship nomination form....