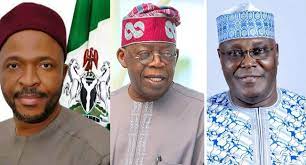 UPDATE: SUPREME COURT DISMMISSES FORMER MINISTER NWAJIUBA'S SUIT SEEKING DISQUALIFICATION OF TINUBU, ATIKU
Read Time:
1 Minute, 15 Second
By Aishat Momoh. O.
In a petition, Chukwuemeka Nwajiuba, a former minister of state for education, sought to have Atiku Abubakar and Bola Tinubu, the presidential candidates of the All Progressives Congress (APC) and the People's Democratic Party, respectively, disqualified from running for office.
The lawsuit was dismissed by the Supreme Court on the grounds that it was time-barred.
On Thursday, a five-person panel presided over by Justice Inyang Okoro dismissed the appeal but did not charge the former minister with costs for withdrawing his claim after learning that the claim had been made outside of the legal window.
Nwajiuba and a civil group are contesting Tinubu's nomination on the grounds that he violated Section 90(3) of the Electoral Act of 2022 by failing to disclose the source of the N100,000,000 he paid to obtain the nomination and expression of interest forms and that the APC also failed to adhere to the federal character principle in the composition of the national working committee.
Mr. Nwajiuba filed an appeal with the court, but the appeal was rejected, and the court upheld the trial judge's ruling that the case was time-barred.
He had pleaded with the Supreme Court to throw out the procedures that had resulted in Tinubu and Atiku becoming the nominees for their respective political parties.
On the same basis that his case lacked merit to warrant the court's attention, he had failed before the Federal High Court and the Court of Appeal in Abuja.
0
0
The Coalition of Oodua Self-Determination Groups has backed President Bola Tinubu on the removal of fuel subsidy saying it was...