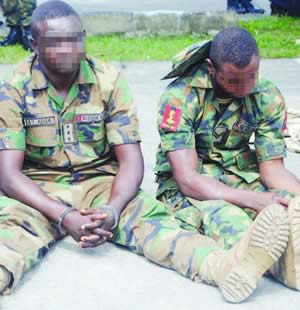 FAKE ARMY OFFICER ARRAIGNED OVER ALLEGED HUMAN TRAFFICKING IN EDO
Read Time:
1 Minute, 16 Second
On Thursday, a 35-year-old man named Kilo Ken, also known as Kingsley Egharevba, who allegedly impersonated a Nigerian Army commander, was charged with human trafficking at the National Industrial Court in Benin.
The Benin Zonal Command of the National Agency for the Prohibition of Trafficking in Persons presented the suspect before the court for arraignment.
When the suspect was apprehended by Army officers and turned over to NAPTIP for prosecution, it was learned that he was allegedly disguising himself as an Army officer to commit the crimes.
He appeared in court on a two-count accusation of aiding Nifemi Afolabi (F), also known as Halima, who is currently at large and is accused of arranging travel abroad for a victim (name withheld) in order to engage in prostitution while also being aware that the victim would be coerced into prostitution in Libya.
The defendant entered a not-guilty plea to the offenses after having the accusations read to him.
The offenses committed by the victim are against and punishable under sections 18 and 14(b), respectively, of the Trafficking in Persons Prohibition Enforcement and Administrative Act, 2015, according to NAPTIP attorney Mrs. Oburoh Victoria Okanigbuan.
According to Oburoh, the suspect broke the law in Benin City in October 2019.
Justice A.A. Adewemimo, the presiding judge, ordered the suspects to remain with the administrative bail pending until the application for his bail is fully presented before the court. The matter was continued to June 15, 2023, for a hearing.
0
0
The Lagos State Government Education Board, has announced a new rescheduled screening test date for students who were absent and...