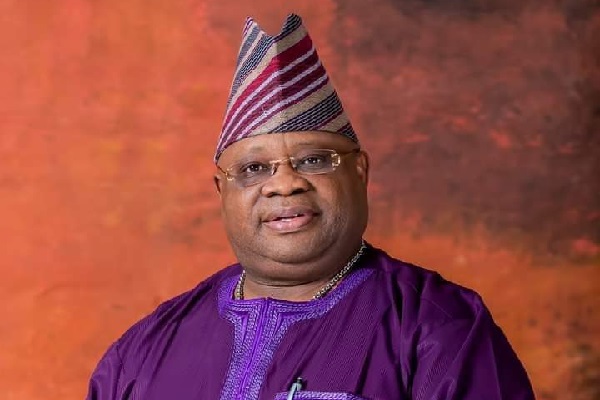 ADELEKE DIRECTS OSUN OFFICIALS TO WEAR ADIRE EVERY WEDNESDAY
Read Time:
1 Minute, 35 Second
Osun State Governor, Ademola Adeleke, has directed all state public officials to start wearing the Adire Osun attire every Wednesday.
The directive which aims to boost the industry and enhance the cultural strengths of the state, bounds on all public servants of the state including the State Executive Council, special advisers; Ministries, Departments and Agencies, amongst others.
The governor's spokesperson, Olawale Rasheed, announced the development in a communique published on Thursday by the state's Head of Service, Mr. Ayanleye Aina.
The statement read, "Governor Adeleke noted that the directive affected all categories of public servants across ministries, departments and agencies of government including tertiary institutions, local governments, local development council and area office.
"Consequently, every Wednesday is adopted as Adire Osun Day with all accounting officers and heads of agencies expected to comply with the directive.
"Additionally, all political appointees are also expected to comply with the directive from the State Executive Council to special advisers, and other categories of appointees."
The statement added that Adeleke had presented the subject at the last SEC meeting with unanimous approval and adoption, while noting, "Adire actually has its source from Osun state."
The decision will reassert the traditional claim of Osun to the Adire genre.
Also, Adeleke held a meeting with his Ogun State counterpart, Dapo Abiodun, where "both governors resolved to host an annual celebration of Adire Day."
Adeleke further announced his administration's plan to create mini-industrial clusters to support the Adire industry and other craft sub-sectors in the state.
"Our administration is working on the creation of SME industrial clusters. The Adire and other craft sub-sectors will be supported to grow and flourish.
"By this decision, we are determined to rebuild the Adire industry that is under threat from foreign mass producers. We are poised to breathe life into our culture with Osun as the cradle of the Yoruba nation", the governor stated.