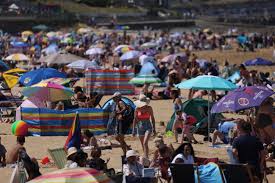 SCHOOLS, TRANSPORT, COMPANIES DISRUPTED AS UK BRACES FOR RECORD-BREAKING TEMPERATURE AT 40oC
Read Time:
2 Minute, 12 Second
Temperatures are expected to reach a record high of 40 degrees Celsius (104 degrees Fahrenheit) on Tuesday, disrupting daily life in the United Kingdom.
According to some forecasts, eastern England will certainly experience temperatures that are hotter than 40 degrees Celsius, shattering the previous record of 38.7 degrees recorded at the Cambridge Botanic Garden on July 25, 2019, according to the Met Office.
According to experts, the world is experiencing more frequent and intense heat waves as a direct result of climate change, and as long as fossil fuels are burned, these severe temperatures will only increase.
According to Bloomberg, harsh weather conditions have already affected certain nations this year, including western Europe, the United States, and India, but they pose a unique difficulty for areas that are not used to experiencing extreme heat.
According to the newspaper, this has caused trains to be delayed or canceled, schools to close early, and workers to become trapped at home.
The UK's Met Office issued its first-ever red emergency heat warning for Monday and Tuesday, alerting the public to the possibility of power outages, road closures, and possibly fatalities. Additionally, it has increased the duration of Tuesday's most serious fire danger warning for the majority of England.
The UK experienced its warmest night on record, at least provisionally.
The Met Office advised drinking lots of water and drawing the curtains to keep rooms cooler. According to the Copernicus Emergency Management Service, the risk of wildfires is still quite high for a significant portion of England.
In order to mitigate the negative impacts of the heat, railways can start to secure at a given heat threshold, necessitating slower or no train operation. When the temperature is too high, maintaining the equipment can also become impossible.
Due to heat-related limitations on several London Tube lines, including the Central and District lines, Transport for London advised passengers not to go and they experienced significant delays. Due to the heat, the Hammersmith & City line was completely suspended.
It was also disclosed that London North Eastern Railway services from London King's Cross station to Leeds and York had been halted. Additionally, Southern Rail lowered service and advised patrons to avoid traveling unless it is absolutely necessary.
Tuesday morning's Thameslink and Greater Northern trains from London, including those going to Luton Airport, have been canceled. The Gatwick Express and Thameslink services are also not operating.
As cooler weather sweeps in from the west later Tuesday, temperatures should start to decline. When temperatures drop to the low 20s Celsius on Wednesday night, which is about usual for the season, the most respite should be experienced.