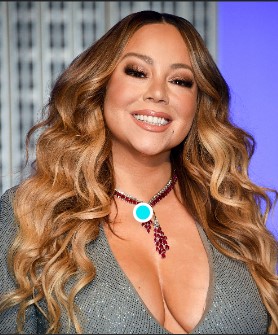 MARIAH CAREY FACES LEGAL TROUBLE AS SHE ATTEMPTS TO TRADEMARK "QUEEN OF CHRISTMAS" TITLE
Read Time:
1 Minute, 37 Second
Mariah Carey may be the unofficial Queen of Christmas, but good luck proving it in court. The Grammy-award winning singer continues to top the billboard chart every year around the holidays with her 1991 hit-single 'All I want for Christmas is you'
The singer submitted an application in March 2021 to trademark the  'Queen of Christmas' a move that has left festive singers; Darlene Love, 81, and Elizabeth Chan, 42, outraged.
Since then, the trademark application for Mariah Carey has been officially opposed by Elizabeth Chan's counsel. According to her attorney "I feel very strongly that no one person should hold on to anything around Christmas or monopolize it in the way that Mariah seeks to, in perpetuity."
The attorney added "that's just not the right thing to do. Christmas is for everyone. It's meant to be shared, it's not meant to be owned. And it's not just about the music business, she's trying to trademark this in every imaginable way; clothing, liquor products, masks, dog collars — it's all over the map."
Meanwhile, Daren Love who appears to be Whitney Houston's godmother is on the lawsuit. The move by Mariah Carey has certainly left her confused, at least according to her Facebook status, Darlene Love said,
"Is it true that Mariah Carey trade marked "Queen of Christmas"? What does that mean that I can't use that title? David Letterman officially declared me the Queen of Christmas 29 years ago, a year before she released "All I want For Christmas Is You" and at 81 years of age I'm not changing anything.
Carey's timeless Christmas album was initially released on November 1, 1994. The smash song went on to be certified six times platinum by the RIAA. In 2019, 25 years after its release, the song reached the No. 1 spot on the Billboard's Hot 100 for the first time.
BY: THURAYA RASHEED-YUSUF