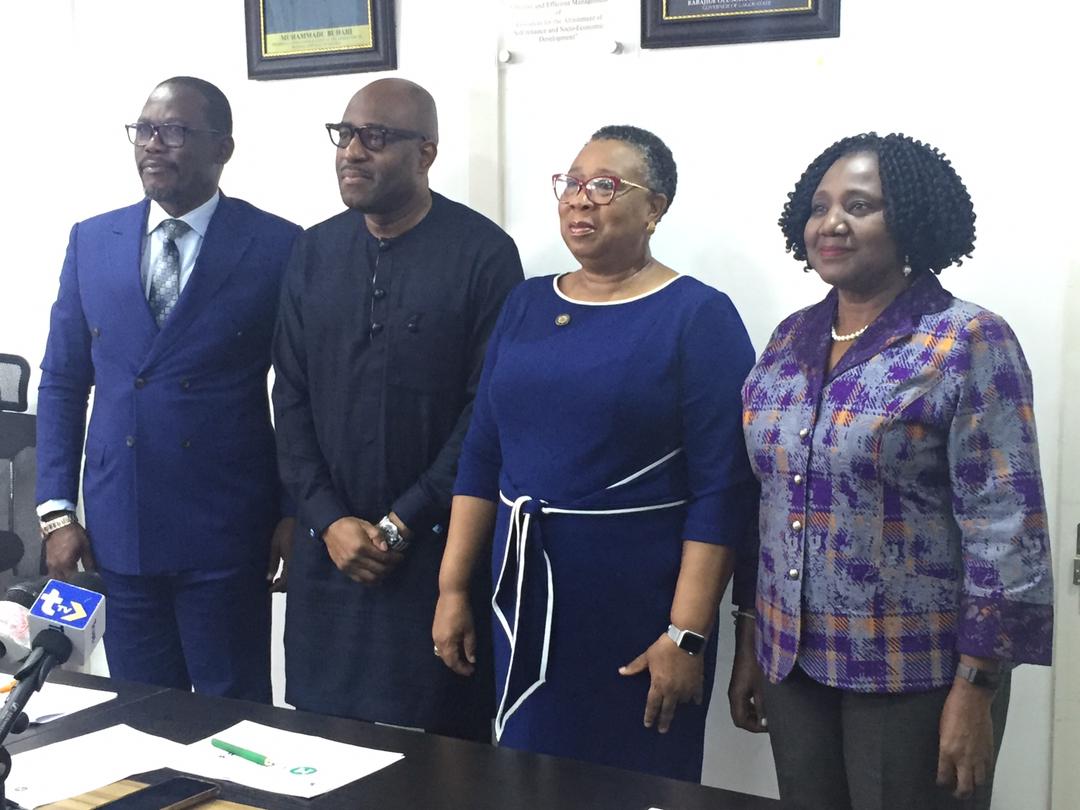 FG SET TO EMPOWER 15,000 YOUTHS IN TECHNICAL AND VOCATIONAL TRAINING
Read Time:
3 Minute, 23 Second
By Aishat Momoh. O.
The Federal Government, has said it is going to train 15,000 Nigerians in Technical and Vocational training Program (T-VET) through the project Team Maximization (T-Max) across seven states in Nigeria.
The Project is part of the Federal Government's intervention to alleviate poverty from at least 100 million Nigerians by the year 2030.
This was mentioned by the Special Adviser to the President on Education Intervention, Mr. Fela Bank-Olemoh, on Monday, during a courtesy visit to the Ministry of Education, Lagos.
While addressing the press, Mr. Bank-Olemoh, stated that 3000 Nigerians would be trained in Lagos, while the other 12,000 will be trained in Ogun, Edo, Enugu, Kaduna, Nasarawa and Gombe respectively, adding that the portal would be opened for registration on the 1st of September and would go on for three-weeks.
He added that these T-VET centers will run with full capacity. He asked that those T-VET Centers that have training centers in fields like Plumbing, Electricity, Automotive, ICT and others to key into the program.
This will enable the Federal Government to register the trainees, send them to the centers and pay for their trainings over the next three months.
He said, "Our expectations is to confirm the fact that we don't need to build more T-VET centers to train our people. We already have centers that we can maximize their capacity. Let's use them to the fullest."
"Once we do these in seven states across the country, with 15,000 Nigerians, next year, we would scale over a million people. Because of the challenges in the country, we have lots of people without skills and we are confident that with this program, we can scale easily."
"The key fact of this program is to reduce poverty in this country. If you are part of this program as a T-VET center, you could tripple what you're earning because we'll fill your center." He said.
"Our expectation is that we will train Nigerians, give them skills, outstanding students will get starter packs while the ones that also do well will earn internship placements. We are also confident that we are putting money in the hands of Nigerians that will spend that money within the Local economy."
According to Mrs. Folashade Adefisayo, the Lagos State Commissioner for Education while making a remark, she praised the effort of the Federal Government which aimed at giving Nigerians the chance to acquire a trade that would enable them to be productive members of society.
In addition to reiterating the State government's commitment in teaching youth to be self-reliance, Mrs. Adefisayo stated that technical and vocational training are required to keep up with the contemporary realities in society.
Other members of the team led by Mr. Fela Bank-Olemoh, are Mr. Awoniyi Victor, the Industrial Training Fund (ITF) Area Manager and Mrs. Moronke Azeez, the Executive Secretary of LASTVEB who later met with about forty private/public centre heads the project team will be working with in the state.
However, Mrs. Moronke, on behalf of LASTVEB thanked the Federal Government for including Lagos State to be a part of the pilot project T-MAX.
She assured that with this training, Lagos state will make sure that it support the trainees and also make sure that when they are out, they would use the skills learnt to better their lives.
"With LASTVEB partnering with project T-MAX in Lagos state, they will continue to support in terms of monitoring and ensuring that the students after the three-months training, will do something viable with the skills. By doing that, they will better their lives and bring growth to Lagos state."
Meanwhile, Mr Falope James Adekunle, the training manager for the Industrial Skill training Center in Ikeja, mentioned that ITF is happy to work with T-MAX and LASTVEB to empower trainees to stand on their own and earn a living.
This collaboration according to him will help to reduce poverty and also, upscale skills for trainees.