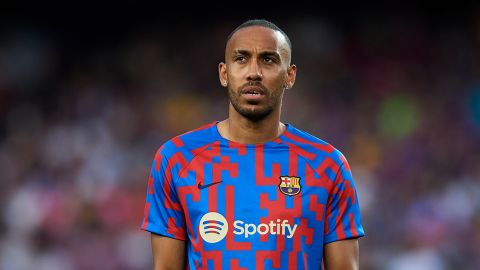 AUBAMEYANG SIDELINED FOR 3 WEEKS AFTER SUFFERING BROKEN JAW DURING HOME ROBBERY
Barcelona striker Pierre-Emerick Aubameyang suffered a broken jaw during a robbery at his house earlier in the week.
Aubameyang was assaulted in the early hours of Monday morning when a gang broke into his home equipped with firearms and iron bars.
Club sources initially said Aubameyang and his wife — who were handcuffed during the burglary with their kids also inside the property in Castelldefels, just outside of Barcelona — did not receive serious injuries.
But sources have confirmed that the former Arsenal striker did break his jaw during the break-in and will be out for around three weeks, which could have implications on a proposed move to Chelsea.
Barca and Chelsea held talks on Tuesday over a deal for Aubameyang and will meet again on Wednesday to discuss a possible transfer.
The Premier League team has been very clear that they will not pay more than €20 million for the forward, but Barca was initially refusing to accept less than €30 million.
Aubameyang's jaw injury has, however, slightly altered the discussion scenario, with a loan to the west London club appearing as a potential resolution.
0
0
By Aishat Momoh. O. The All Progressive Congress (APC) in Lagos inaugurated her ethnic groups and sworn in their leaders...