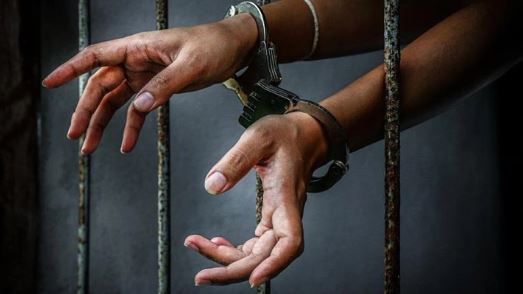 (VIDEO) WOMAN ARRANGES FOR HUSBAND TO BE KIDNAPPED, N2M RANSOM COLLECTED
By Adeola Abdullah
One Mrs Joy Emmanuel Sunday has been arrested by the police in Akwa Ibom for allegedly organising the kidnap of her husband.
The 40-year-old woman also said to have collected N2million as ransom from the kidnap. 
Mrs Sunday said she was forced to kidnap her husband, Mr Emmanuel Sampson Ebong, an indigene of Ntak Obio Akpa in Oruk Anam Local Government Area, Akwa Ibom State because he starved her of sex and abandoned his children.
Even when my father and mother-in-laws were alive, he abandoned me. He never cared for his children. I engaged in menial jobs such as weeding people's farms to feed his children and pay their school fees.
Sunday, who was among 29 other persons paraded for various offences including kidnapping by the police, said she was subjected to engage in all sorts of menial jobs to fend for herself and her children when her husband married another woman.
In a twist, Sunday said she did not collect any part of the ransom collected; "the kidnapper that collected the ransom of N2 million never gave me my share and I didn't even see the money," she said.
It was gathered that the kidnappers demanded N10 million as ransom and later reduced it to N2 million; a sum that was paid before the police arrested them at the point of sharing.
0
0
Beginning in April 2024, accounts lacking a Bank Verification Number (BVN) or National Identification Number (NIN) would be frozen, according...