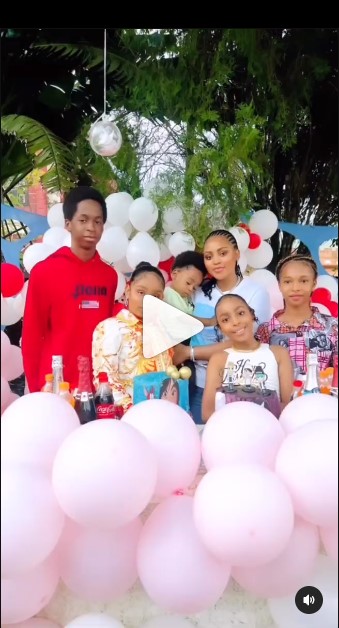 FANS REACT AS REGINA DANIELS POSES FOR PHOTOS WITH HER STEPCHILDREN
Read Time:
1 Minute, 2 Second
Nollywood actress, Regina Daniels Nwoko has melted the hearts of her fans with her motherly love towards her stepchildren.
Regina and Her husband, treated Maya, one of the kids of his estranged Moroccan wife, Laila Charani, to a lavish birthday bash.
The couple threw an elaborate birthday party for the youngster. The actress shared clips from the party as she praised her step-daughter also she stated that the highlight of the party was showing how caring and compassionate Maya is towards the children.
With the caption, "Just because Maya asked me to post clips from her birthday…So you guys pls say something beautiful because she is in the comment section. The highlight of the video is how caring and compassionate Maya is towards the children".
Fans took to her comment section to praise her gesture. With the caption from a fan @erabella704, "I just like the way you treat those children….thanks for having such a big….God will continue blessing you".
Another fan @zinnyd23 commented, "And to you Regina, you are such a lovely soul. You treat your stepchildren like they are biological children…I salute you for your understanding, care and love towards your step children. God bless you real good, Amen".
1
0
By Aishat Momoh. O. The All Progressive Congress (APC) in Lagos inaugurated her ethnic groups and sworn in their leaders...