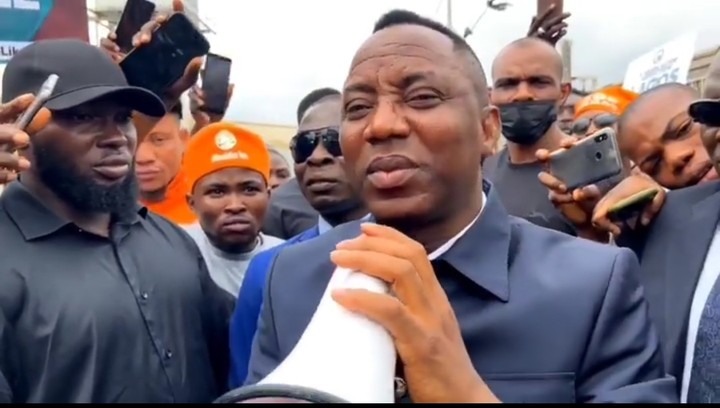 SOWORE REVEALS HOW HE HELPED PETER OBI EMERGE AS PRESIDENTIAL CANDIDATE OF LABOUR PARTY
Read Time:
2 Minute, 30 Second
By Aishat Momoh. O.
…. Extolled Gani Fawehinmi's virtues
The African Action Congress (AAC), Omoyele Sowore has mentioned how he helped Peter Obi emerge as Labour Party's Presidential Candidate when the party had problems.
He mentioned this at the Gani Fawehinmi's 13th memorial lecture that was held in Lagos on Monday.
While giving his speech, he recalled how he and the Lawyer and Human Rights Activists, Mr. Femi Falana had helped the party to choose Peter Obi as it's presidential candidate.
He also spoke on how they had taken legal steps to defend LP when they had problems, adding that there had been requests that Obi should not be considered for the post.
He also mentioned that, they obtained a court ruling that Falana utilized to support Labour Party (LP).
"When the Labour Party ran into a problem, it was a member of the Labour Party that insisted the Labour Party cannot present the candidate of Dr. They had a legal problem.
"We went ahead and obtained judgement from the Court of Appeal and handed it over to SAN Falana to use it to defend the Labour Party, and by extension Peter Obi's candidacy. I'm just telling you that we are in the business of saving people.
"And when they wanted to flush out Obi twice in Anambra State, SaharaReporters saved him. Barrister Femi Falani on a daily basis will call and say, 'I don't know Peter Obi but we should not allow this injustice to pass'. He said nobody should be impeached because of Obasanjo. Obasanjo was impeaching anybody impeachable at that time in Nigeria."
"That was how Obi completed two tenures. So when we speak, we know what we are saying. We are saying that we have been standing with Nigerian people but we don't have any sense of entitlements," he added.
Sowore however, extolled Gani Fawehinmi's virtues, saying he stood for the Nigerian people in his lifetime.
"There are not enough people who have been standing up for the Nigerian people and it is not fair and honest.
"Gani is a man who dared the devil and is an inspiration to everybody who is a daredevil. When nobody could create a political party in this country, he created one in 1994 under military rule. "After a while he was betrayed. His NCP (National Conscience Party) has become something else. We do not have NCP anymore.
"Gani always stood for justice. In 1999 when the military was leaving, Gani told us that we can't trust the military and we should just go and find something to do. That was how I left Nigeria. By 2003 when he decided to run for office, the thieves had consolidated their mode of power.
"Gani could not boast of any sizable electoral numbers. I am not here to justify the numbers because they have never held free and fair elections in this country before. If free and fair elections are there, there is no way I would not have defeated Buhari in 2019.