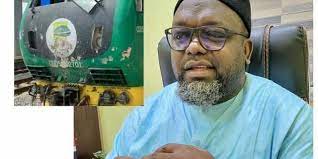 ABUJA- KADUNA TRAIN ATTACK: POLICE ARRESTS BANDITS NEGOTIATOR, TUKUR MAMU IN EGYPT
Read Time:
1 Minute, 57 Second
Alhaji Tukur Mamu, the chief negotiator between the abductors and the passengers abducted from the attacked Abuja-Kaduna train, has been detained by the Egyptian Police.
According to reports gathered, it was learnt that Manu was detained on Tuesday in Cairo, the capital of Egypt.
The negotiator for the bandits was reportedly detained in Egypt together with his family.
Mamu was allegedly stopped at the Cairo International Airport on his route to Saudi Arabia for the Lesser Hajj (Umrah).
Calls and texts made to Mamu were unsuccessful but an Arab woman could be overheard conversing when the call reached his line.
In the meantime, Kashim Shettima, the vice presidential candidate for the All Progressives Congress, had recently visited the publisher and Sheikh Gumi in Kaduna.
On Monday, the former negotiator personally sent to correspondents photos from the trip.
Recall that on March 28, some vicious bandits attacked the AK9 train traveling from Abuja to Kaduna and kidnapped a number of people.
Eight people lost their lives as a result of the train derailing after the robbers set explosive devices along the rail track, which exploded when the train approached the site.
Nine people were murdered in the incident overall when another passenger who had sustained a gunshot wound passed away a day after it occurred.
398 people purchased tickets according to the manifest that the Nigerian Railway Corporation received, but only 362 of those purchases were verified. Over 60 passengers have been held captive for more than 50 days and are still in the kidnappers' den.
The bandits threatened to start executing kidnapped passengers who were in their care if the Federal Government would not comply with their demands within seven days.
Both the release of their arrested colleagues and the unconditional release of their detained children, who were being housed in an orphanage in Adamawa State under the close surveillance of the Nigerian Army, were part of the demands.
The bandits also claimed that their threat to the government led to the Nigerian Railway Corporation suspending train service on the Abuja-Kaduna route on May 23.
The bandits claim that the government is not earnest in the negotiations and had threatened to kill all of the abducted passengers unless their jailed children, who were forcibly snatched from their spouses in Nasarawa State and held in Adamawa State, are released.