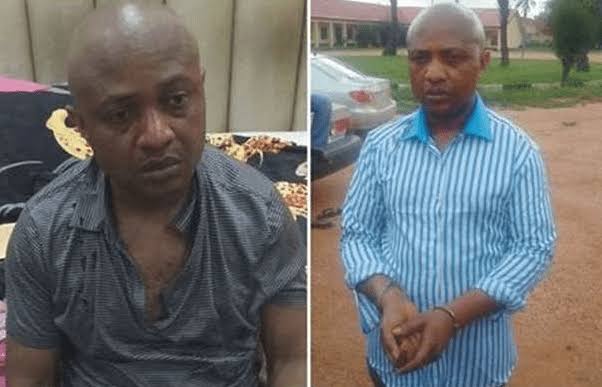 COURT SENTENCES EVANS TO 21 YEARS IN PRISON FOR KIDNAPPING
Read Time:
1 Minute, 36 Second
Chukwudumeme Onwuamadike, alias Evans, was sentenced to 21 years in prison on Monday by an Ikeja Special Offenses Court for the kidnapping of businessman Slyvanus Ahamonu and and collecting $420,000 as ransom from his family.
Evans' accomplice, ex-soldier Victor Aduba, was also found guilty on four counts involving kidnapping and illegal possession of firearms and received a 21-year prison term.
Oluwatoyin Taiwo, who gave the ruling, stated that the prosecution had successfully proven the charge of kidnapping and firearm possession against the defendants.
The judge also held that there was no proof before the court that three of Evans' men were killed by the police.
She also convicted Mr Aduba, based on his confessional statement, and held that he should serve out his term without an option of a fine.
"I have considered the allocutus of the defence counsel. This sentencing will serve as a deterrent to others.
"The two are hereby sentenced to a five-year jail term for the first count, second count, 21 years, and third count, five years.
"The sentencing will, however, run concurrently. They are hereby sentenced to 21 years imprisonment without an option of fine," Mrs Taiwo said.
Earlier, the first defendant's counsel, Amobi Nzelu, in his allocutus, prayed the court to temper justice with mercy, adding that the convict was already serving a life jail term.
On December 17, 2021, Ahamonu and his wife Chimebere gave a virtual testimony on how Evans and his gang abducted him on June 23, 2014, on Kara Road off of Osolo Way, Ajao Estate, Lagos.
The couple described how they tried to raise the original $2 million ransom sought by Evans by selling properties, borrowing money, and soliciting donations from family and well-wishers.
Ahamonu was held captive for two months with his hands and legs chained; he wasn't freed until his family paid Evans $420,000 in ransom and he was close to dying.