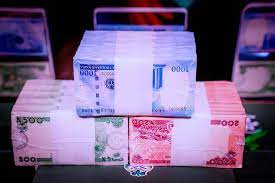 NEW NOTES: POS OPERATORS CHARGE N1,000 TO PAY OUT N5,000
Read Time:
1 Minute, 34 Second
By Aishat Momoh. O.
– As Customers Decry Inadequate Supply of Cash
Despite the extension of the January 31st deadline for the validity of old Naira notes in the country, some commercial banks have refused to dispense cash over the counter and Automated Teller Machines (ATM) leaving customers stranded.
As a result of this new development, Customers have decried the inadequate supply of cash by the money institutions including Point of Sales (POS) operators.
An anonymous source, told Hotjist.com that when he got to a branch of the United Bank for Africa (UBA) at Allen Avenue on Monday, in the Ikeja Area of Lagos, he was told that there was no money on ground and the old notes were not meant to be disbursed to the public.
Meanwhile another customer said, "I went to Stanbic Bank and Polaris Bank on Toyin street, Ikeja in order to withdraw from their ATMs but none of them was dispensing cash. It just indicated that the machine was out of service and could not dispense."
"I also went to some POS operators, and I was told that there is no money." he added.
In similar vein, another customer at Ilesa, in Osun State on Sunday, complained of not being able to receive cash at the bank but discovered that some POS operators were rather selling the new Naira notes instead of disbursing it at the regular charges.
"When you get to the POS to withdraw cash, they cash about N1000, in exchange for N5000 new notes while they charge the regular N100 if you want to collect the old notes."
However, in an earlier report, the Department of State Services (DSS), arrested some members of an organized syndicate for selling the new notes in some banks to members of the public.
The Agency further warned all currency racketeers to desist from the ignoble act or be punished if caught.