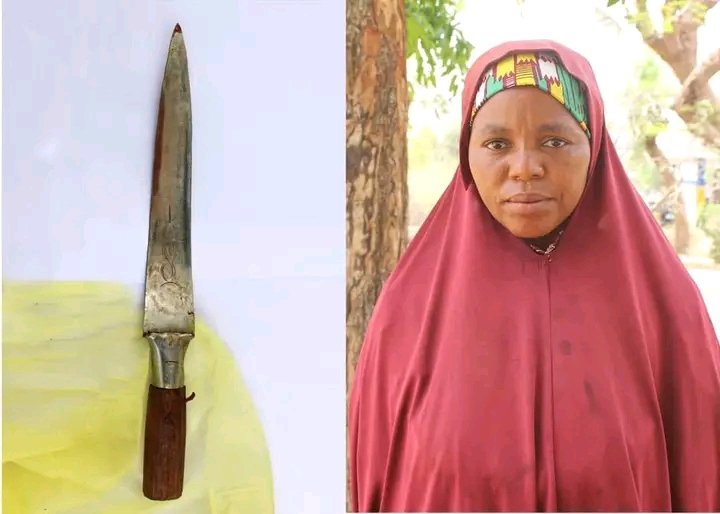 KANO WOMAN ARRESTED FOR STABBING NEIGHBOUR'S 8-YEAR-OLD DAUGHTER (VIDEO)
Read Time:
3 Minute, 18 Second
– Suspect Enraged over Advice by Victim's Father for Her Husband to Marry a New Wife
By 'Leke Yusuf
A 35-year-old woman has been arrested in Kano for stabbing a family friend's eight-year-old daughter with a knife.
In a press statement signed by the Public Relations Officer (PRO) of the Kano State Police Command, SP Abdullahi Kiwaya; the suspect, Fatima Salisu of of Gadon Kaya Quarters, Gwale LGA Kano State, confessed to stabbing 8-year-old Sharifa Usman with a knife because Sharifa's father had been advising Fatima's husband to marry a new wife.
The statement reads "On 14/05/2023 at about 1840hrs (06:40pm), a distress call was received from a good Samaritan who reported that he heard a loud cry of a girl from an uncompleted building located at Kureken Sani in Kumbotso LGA, Kano State. He was attracted and rushed to the scene where he met a girl in a pool of blood with a sharp knife being stabbed and the knife being stuck in her stomach, in addition to other injuries on other parts of her body.
2. On receipt of the report, the victim was immediately rushed to Mallam Aminu Kano Specialist Hospital where she was admitted. The Commissioner of Police, Kano State Command, CP Mohammed Usaini Gumel, FIPMA, psc immediately directed the immediate launch for a hunt by all Police Officers and to use all available assets to ensure that the perpetrator(s) are brought to book as soon as practicable.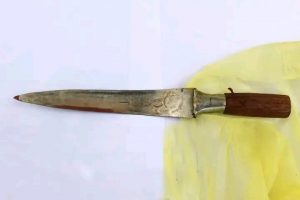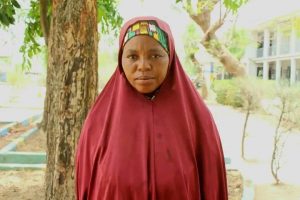 3. Afterwards, the rescued victim identified as Sharifa Usman, 'f', 8 years old, of Gadon Kaya Quarters, Gwale LGA Kano while recuperating at the Hospital stated that, "the attack was by a woman in their neighbourhood identified as one Fatima who took her from Gadon Kaya Quarters to the said uncompleted building in Kureken Sani Kumbotso LGA, and stabbed her with a knife on her neck, stomach, left the knife stuck in her stomach, abandoned her and ran away from the scene.
4. At the preliminary investigation, the husband of Fatima, one Yusuf Aminu, 'm', of Gadon Kaya Quarters, Gwale LGA, Kano State was arrested. He claimed that his wife, Fatima has evidence of a mental disorder and is unaware of her whereabouts. Sustained follow-up coupled with intelligence-led operations led to the arrest of the suspect, Fatima Salisu, 'f', 35 years old of Gadon Kaya Quarters, Gwale LGA Kano State at a hideout in Dungulmi Village, Isari District, Dutse LGA, Jigawa State on 18th May 2023.
5. At this moment, the suspect is undergoing investigation at the Police Command's Criminal Investigation Department (CID) by Homicide Section. While the suspect has since confessed to committing the crime, she further stated that she committed the act as revenge, because the father of the girl has been advising her husband to marry a second wife. However, the ongoing discreet investigation is seeking for answers to the following questions in order to dispute the crime cover-up of the statement earlier made by her husband.
i. Why did the suspect take the child from Rijiyar Zaki in Gwale LGA down to Kureken Sani Quarters in Kumbotso LGA?
ii. Why did the suspect seclude the little girl to an uncompleted building in a faraway location?
iii. Why did the suspect run away to a far location (Jigawa State) after the commission of the crime?
iv. Why did the suspect refuse to disclose her location to her husband, children and relatives after escaping from the crime scene?
6. While praying and wishing for the quick recovery of the 8-year-old Sharifa, the Commissioner of Police appreciates those that assisted with the information that led to the arrest of the suspect. The case will be charged to court upon completion of the investigation."