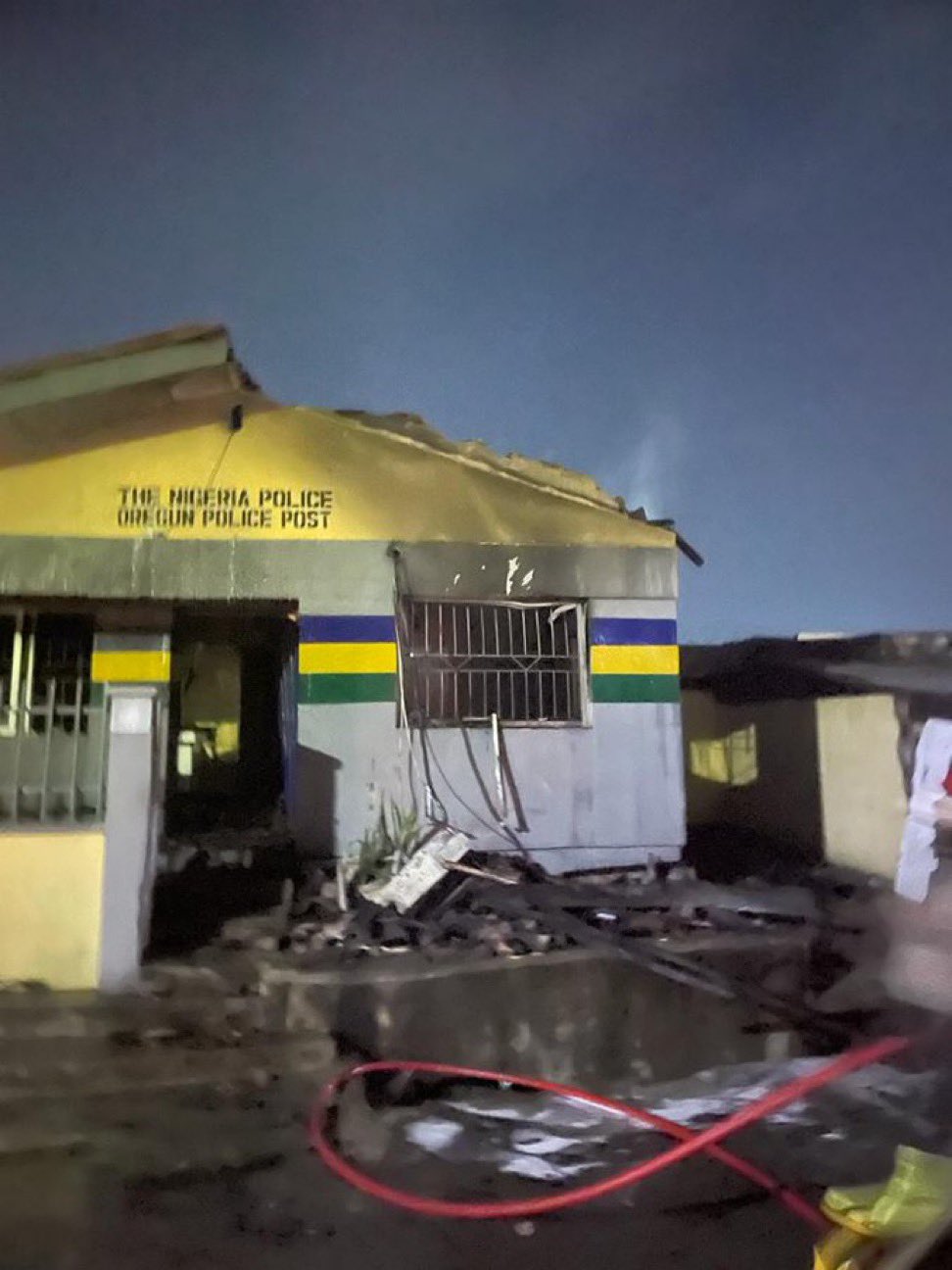 ANGRY YOUTHS SET POLICE STATION IN LAGOS ON FIRE
Read Time:
1 Minute, 16 Second
By Adeniyi Onaara 
Some enraged teenagers stormed a police station on Olayiwola Close in the Oregun neighborhood of Ikeja, Lagos State, lighting it ablaze and injuring a police officer on duty.
The incident, the cause of which has yet to be determined, injured a police officer in the head.
According to reports, the officer was brought to the emergency center at the toll gate on the Lagos-Ibadan Expressway for treatment.
While the station was on fire, officers from the Lagos State Fire Service were notified and dispatched to the area to help.
The fire was extinguished, but a portion of the police station's structure was damaged. However, no weapon was stolen
SP Benjamin Hundeyin, the state Police Public Relations Officer, confirmed the occurrence.
He stated that an inquiry into the crime had begun, but that "no suspect had been arrested."
Meanwhile, two alleged Yoruba Nation members were apprehended on Sunday during an attempted takeover of the Alausa Police Station in Ikeja.
While on the premises, the agitators, totaling around 15, took out their phones and began recording the station and themselves yelling, "No more Nigeria police again," and "Yoruba Nation has taken over in Yoruba land."
Some police officers assigned to the station were attacked in an attempt to disperse the demonstrators.
According to Hundeyin, police reinforcement was quickly dispatched to the scene, and two of the agitators were captured while others escaped.
The Lagos PPRO noted that charms, cutlasses and insignia of the group were recovered from the suspects.
0
0
President Bola Tinubu, on Tuesday implored the Heads of National Drug Law Enforcement Agencies in Africa to renew the fight...