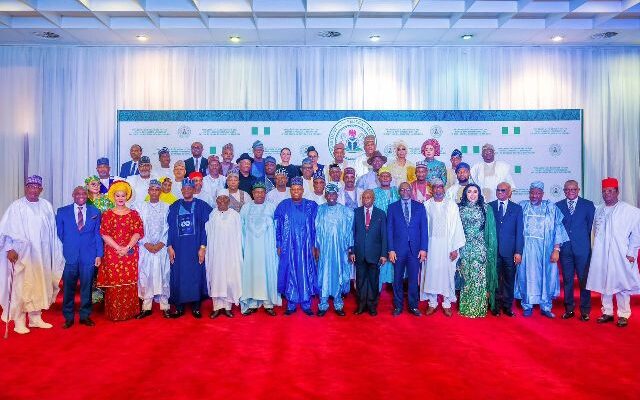 Read Time:
21 Minute, 41 Second
By Aishat Momoh. O.
On Monday, the 45 ministers-designate who have been confirmed by the Senate, swore an oath of allegiance to the Federal Republic of Nigeria.
The newly sworn-in ministers took their oaths of office at the Presidential Villa in Abuja, before the President.
On July 31st through 4th of August, 2023 the Senate made the nominated ministers to undergo a screening procedure where their portfolios were read and questioned.
Last Wednesday, President Tinubu, released the portfolios for the 45 confirmed ministerial nominees.
This article is a compilation of the newly sworn-in ministers, who would be working hand in hand with the President of the Federal Republic of Nigeria.
NKIRUKA ONYEJEOCHA (ABIA STATE):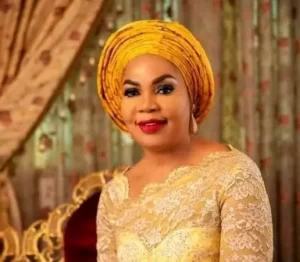 Nkiruka Onyejeocha was born on 23 November 1969. She is a Nigerian politician and a ranking lawmaker in Nigeria's Federal House of Representatives. She represents Isuikwuato/Umunneochi Federal Constituency of Abia State. Onyejocha is an active member of the Nigeria Federal parliament and often contributes brilliantly to debates on critical national issues in the house. She has sponsored several bills and moved motions that have improved the lives of ordinary citizens and help safeguard their rights.
Onyejocha attended Isuochi Central Primary School and Ovim Girls School, Isuochi. In 1988 she graduated from University of Nigeria, Nsukka, UNN with a diploma in Social Work/Community Development. In 1993 she finished a Bachelor of Art Degree, BA with second class upper division (Honor) from University of Nigeria, Nsukka. Onyejocha holds Master's Degree in International Affairs and Diplomacy from Imo State University (2005) and Master's Degree in Shipping from Ladoke akintola u iversity of Technology, Oyo State.
She will serve as Minister of State, Labour and Employment
TAHIR MAMMAN (ADAMAWA STATE):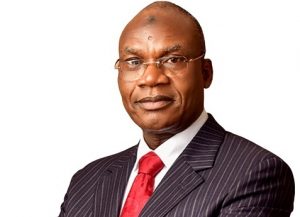 Dr Tahir Mamman was born on July 7, 1954.
He graduated from the Ahmadu Bello University in 1983 with a Bachelor of Laws degree. Mamman bagged his MSc and PhD degrees from the University of Warwick, England.
He is the first Senior Advocate of Nigeria from Adamawa State and a recipient of the national honour of Officer of the Order of the Niger
He is a father of nine: Mamman has been blessed with a large and loving family
He will serve as Minister of Education
EKPERIKPE EKPO (AKWA-IBOM):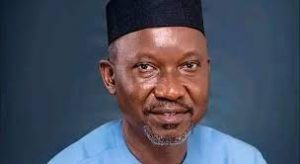 Ekperikpe Ekpo is a well known grassroot politician, and he served as the chairman of the council before being elected to the House of Representatives, where he served from 2007 till 2011.
He is a notable chieftain of the All-Progressives Congress in his native state of Akwa-Ibom in addition to serving as the Director- General of the Akwa Ibom Democratic Forum (ADF).
He will serve as Minister of State, Gas Resources
UJU KENNEDY (ANAMBRA):
Uju Kennedy was born on 23rd December 1973 and hails from Awka in Anambra State. She is a lawyer, entrepreneur, politician, producer of Nollywood films, and the first woman to run for president of Nigeria under the All Progressive Congress (APC).
She is enthusiastic about ensuring the welfare of those who are less fortunate and disabled people. Students, widows, and members of society's lower classes are a few groups that have benefited from her kindness and charity.
Numerous health centers have been established and outfitted by Glo Kennedy-Ohanenye in rural areas of the states of Kogi, Kaduna, Kano, Imo, and Anambra. In several of those states' remote areas, she has also donated skill development centers. Although the lawyer is a skilled businesswoman and humanitarian, she is a beginner in the political sphere.
The former entrepreneur turned politician is a devoted wife and mother of four kids.
She will serve as Minister of Women Affairs
HEINEKEN LOKPOBIRI (BAYELSA):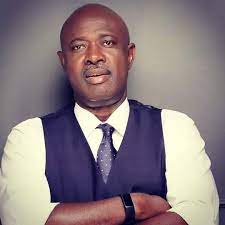 Heineken Lokpobiri was born 3 March 1967. He is a Nigerian politician who is the minister of state for Petroleum Resources (Oil). He previously served as minister of state for Agriculture and Rural Development from 2015 to 2019, and as Senator representing Bayelsa West Senatorial District from 2007 to 2015. He is a former speaker of the Bayelsa State House of Assembly.
Heineken Lokpobiri received an LL.B (Hons) in 1994 from Rivers State University of Science and technology, Port Harcourt, BL February 1995. Expert in Environmental Rights and Environmental Law, holds a Doctorate degree Ph.D. from Leeds Beckett University, UK in 2015.
Lokpobiri was a member of the Bayelsa House of Assembly, from 1999 to 2003, and speaker of the house from June 1999 – May 2001.
Lokpobiri is happily married and has four children.
He will serve as Minister of State, Petroleum Resources
BETTA EDU (CROSS RIVER STATE):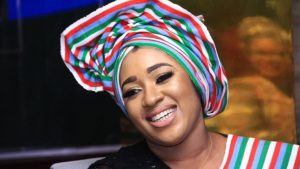 Betta Edu was born October 27, 1986. She is a Nigerian politician and national women leader of All Progressives Congress. She was Cross River State Commissioner for Health until her resignation in 2022. She was also National Chairman of the Nigeria Health Commissioners Forum.
Betta hails from Abi Local government Area in Cross River State. She completed her secondary education in 2001 at the Federal government Girls' College, Calabar and obtained her first degree in medicine and surgery from the University of Calabar in 2009.
She has a Post Graduate Diploma in Public Health for Developing Countries from London School of Hygiene & Tropical Medicine, with a master's degree in Public Health in Developing Countries from London School of Hygiene & Tropical Medicine, and Doctor of Public Health from Texila American University.
In 2015, Edu became the youngest person to be appointed Special Adviser to the Executive Governor of Cross River State Benedict Ayade on Community and Primary Healthcare.
She will serve as Minister of Humanitarian Affairs and Poverty Alleviation
JOHN ENOH (CROSS RIVER STATE):
John Enoh was born 4 June 1966. He is a politician, farmer, philanthropist and he is currently the 36th Minister of Sports Development of Nigeria.
Enoh was born and raised in Agbokim Waterfall community of Cross River State and is married to Rachel Owan-Enoh and has children by her.
Enoh was a Senator of the Federal Republic of Nigeria in 2015 representing Central Senatorial District of Cross River State in the 8th Assembly of the Senate.
Aside from politics, Enoh runs a philanthropy including founding a foundation tagged JOE (John Owan Enoh) Foundation where he provides help for people living with diabetes in Nigeria.
He will serve as Minister of Sports Development
FESTUS EGWAREWA KEYAMO (DELTA STATE):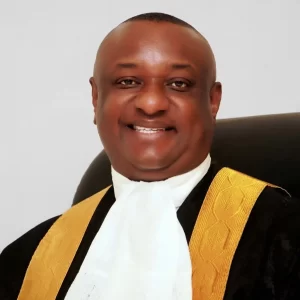 Festus Keyamo was born 21 January 1970, SAN FCIArb is a Nigerian lawyer, columnist and human rights activist. In April 2018, Keyamo was appointed as the director of Strategic Communications of the 2019 re-election bid of Former President Buhari.
Keyamo had his primary education at Model Primary School and secondary education at Government College, Ughelli, where he obtained the West African School Certificate in 1986. He later proceeded to Ambrose Ali Universityat Ekpoma, in Edo State southern Nigeria where he received a Bachelor of Law degree in 1992 and was called to the Nigerian Bar in December 1993.
Festus was among the nominated ministers of the second administration of President Muhammadu Buhari.
After his nomination, he was equally screened by the senate. Until September 24, 2019, Keyamo was appointed Nigeria's Minister of State, for Niger Delta, before he was redeployed to Ministry of Labour and Employment by President Muhammadu Buhari barely a month after his initial appointment on 21 August 2019.
He will serve as Minister of Aviation and Aerospace Development
DAVID UMAHI (EBONYI):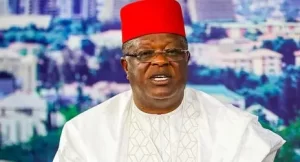 David Umahi was on born 25 July 1963. He is a Nigerian politician who serves as the minister of works of Nigeria.Umahi received his secondary education from Ishiagu High School and the Government Secondary School of Afikpo before entering the Enugu State University of Science and Technology in 1982.
He graduated in 1987 with a Bachelor of Science Degree in Civil Engineering He previously served as Senator representing Ebonyi South Senatorial District between June and August 2023, and as the Governor of Ebonyi state from 2015 to 2023, and deputy governor from 2011 to 2015.
Umahi was elected to the role of Governor on 12 April 2015 in an election that has been challenged by the Labour Party, All Progressives Congress and All Progressives Grand Alliance on the basis of "widespread irregularities, killings, and wanton destruction of property". In October 2015, the legitimacy of the election was upheld by the Governorship Election Tribunal.
On the 16 March 2019, Umahi was re-elected as governor in the Ebonyi state governorship election. He polled 393,343 votes to defeat APC's Sonny Ogbuoji, who polled 81,703 votes. Umahi won APC Ebonyi South Senatorial district elections in 2022.
He will serve as Minister of Works
ABUBAKAR MOMOH (EDO STATE):
Momoh hails from Etsako East local government area (LGA) of Edo state. Momoh has served twice as a member of the House of Representatives, representing Etsako federal constituency of Edo state.
He holds a master's degree from the University of Lagos (UNILAG), and is a registered member of the Nigerian Society of Engineers and the Council for the Regulation of Engineering in Nigeria (COREN). He is also a fellow of the Institute of Public Administration (FPA) and holds a master's degree in Public Administration from Ambrose Ali University, Ekpoma.
He will serve as Minister of Minister of Niger Delta Development
OLADELE HENRY ALAKE (EKITI STATE):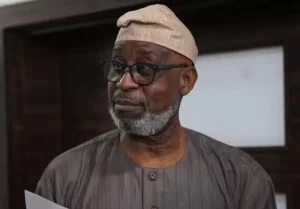 Dele Alake was born 6 October 1956) is a Nigerian journalist, activist and technocrat. He is a former commissioner for Information and Strategy in Lagos State between 1999–2007 under the then Governor of Lagos State, Asiwaju Bola Ahmed Tinubu.
Alake was drawn into politics when he was made the Adviser on Information to his employer and mentor, late Bashorun M.K.O. Abiola (publisher of the Concord Group of Newspapers) to aid Abiola's presidential campaign and election in 1993.
Alake is a former vice-president of the Nigerian Guild of editors. He belongs to several national, regional and international professional bodies such as the Nigeria Union of Journalists (NUJ), West African Union of Journalists. He has also received several honour and awards for his meritorious service in journalism.
He will serve as Minister of Solid Minerals Development
CHIEF UCHE JEFFERY NNAJI (ENUGU STATE):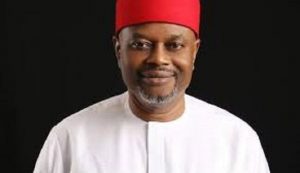 He was born in Akpugo Nkanu West LGA in Enugu State. Uche had all of his education in Enugu state, his home state.
He attended the University of Nigeria's Nsukka Campus, St. Patrick's College in Emene, Enugu, and Santa Maria Primary School in Enugu (now Ziks Avenue Primary School).
The guber candidate came to the limelight in 1999 when he won the senatorial ticket of the then Alliance for Democracy, AD.
He is is married with four children.
He will serve as Minister of Innovation Science and Technology
DORIS UZOKA ANITE (IMO STATE):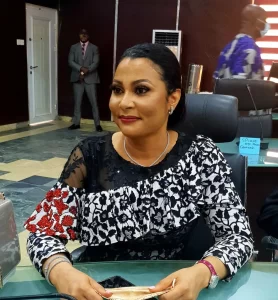 Dr. Anite was born on 16 October 1981 into a Christian family to her parents Mr and Mrs Uzoka. She has other siblings.
Dr. Doris Uzoka Anite is a Nigerian Medical Doctor turned financial expert, Banker and politician. She also holds a CFA (Chartered Financial Analyst) charter, specializing in Financial Risk Management and Portfolio Management.
In 2002, Dr. Anite made a career shift to the banking industry, rising to become the General Manager of Zenith Bank Plc and later becoming the youngest commissioner under Imo state Governor, Hope Uzodinma.
During her tenure as a commissioner, Dr. Anite was in charge of various critical functions at Zenith Bank, including Fixed Income and Currency Trading, Asset and Liability Management, Treasury Corporate Sales, and Financial Institutions.
Dr. Anite is married to her husband Mr Anite with children.
She will serve as Minister of Industry, Trade and Investment
MOHAMMED BADARU ABUBAKAR (JIGAWA):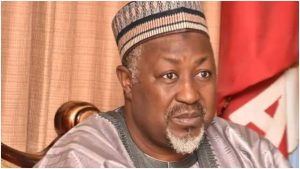 Mohammed Abubakar was born 19 September 1962. He previously served as governor of Jigawa State from 2015 to 2023. He is the Chairman, Presidential Committee on Fertilizer and also the Chairman, Presidential Committee on Non oil Revenue. And he is the owner of Talamiz group of industries.
Abubakar is a graduate of Ahmadu Bello university, Zaria where he obtained a B.Sc Accounting degree. While studying at the university, he became involved in community activism, sport and business. Badaru is also an alumnus of the National Institute of Policy and Strategic Studies (NIPSS) in Kuru.
He will serve as Minister of Defence
ABDULLAH T. GWARZO (KANO):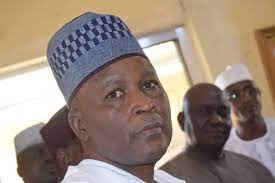 Abdullahi Tijjani Muhammad Gwarzo, a former Deputy Governor of Kano State and former Gubernatorial candidate of Action Congress of Nigeria (ACN), was born on the 23rd of September, 1960, at Koyar Getso, in the Old Gwarzo Local Government area of Kano state.
He started his early primary education at the famous Gwarzo day primary school, where he completed his primary education and obtained a primary school leaving certificate in the year 1977.
In the year 1982, he completed his secondary education after which he was admitted into the prestigious Ahmadu Bello University Zaria, where he studied Textile Engineering and was awarded a Bachelor of Science (Tech) degree in the year 1988. Between 1988 and 1989, he was posted to the Old Bendel state to serve his country in the mandatory National Youth Service Corps (NYSC) scheme.
He was appointed as the Special Adviser to the Executive Governor of Kano State on special duties in the year 2007.
He will serve as Minister of State, Housing and Urban Development
DR. MAHMUD MAIRIGA (KANO STATE):
Northern Nigeria's Mairiga Mahmud was born in a small hamlet. Being raised in a close-knit family, she gained an appreciation for the virtues of toil, tenacity, and resolve. Mahmud's parents instilled in her a deep conviction in the value of education and its capacity to change lives despite their financial struggles.
Mahmud started a legal career after completing her degree and fought for issues that intended to improve the lives of the poor and disenfranchised. President Bola Ahmed Tinubu and other powerful politicians were drawn to her dedication to justice and fairness.
She will serve as Minister of State, Federal Capital Territory
AHMED MUSA DANGIWA (KATSINA):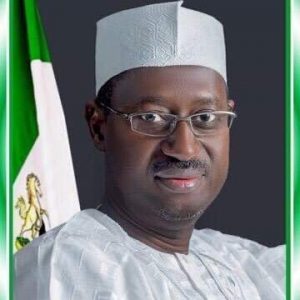 Ahmed Musa Dangiwa is a Nigerian architect, academic and the former CEO/MD of federal mortgage Bank of Nigeria. He currently serves as the Minister of Housing and Urban Development.
Dangiwa hold bachelor's degree in architecture and master's in architecture and MBA all from Ahmadu Bello university Zaria. He is also an Alumnus of the prestigious Wharton School of Business at the university Pennsylvania, United state.
He was the Director General Tinubu/Dikko campaign council, APC, Katsina State and Co-chairman, APC Transition council.
He contested for the APC ticket during the 2023 Governorship election in Katsina State during the APC primary election in May 2022.
Dangiwa is happily married with children.
He will serve as Minister of Housing and Urban Development
HANNATU MUSAWA (KATSINA STATE):
Hannatu Musawa is a lawyer, Newspaper Columnist and the Deputy Spokesperson of the All Progressives Congress APC Presidential Campaign Council PCC.
She holds a degree in law from the University of Buckingham, UK and took a Postgraduate Masters Degree in the Legal Aspects of Marine Affairs from the University of Cardiff, Wales.
She also has a Postgraduate Masters Degree in Oil and Gas Law from the University of Aberdeen. She is completing a Doctorate, which she has been doing part-time.
She will serve as Minister of Art, Culture and the Creative Economy
SEN. ABUBAKAR ATIKU BAGUDU (KEBBI):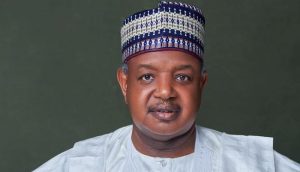 born 26 December 1961) is a Nigerian politician who served as governor of Kebbi State, Nigeria between May 2015 and May 2023. Previously, he served as the Senator for the Kebbi Central constituency of Kebbi state. He is a named accomplice in multiple investigations involving corruption that occurred during the regime of former Nigeria's military ruler Sani Abacha.
He obtained a BSc (Economics), Usmanu Danfodiyo University Sokoto, Msc (Economics) University of Jos and M.A. (International Affairs). He is married to Zainab Bagudu, the First Lady of Kebbi State.
Bagudu succeeded Adamu Aliero when he won the by-election for the Kebbi Central Senatorial seat following Aliero's appointment to become the Minister for FCT. In the 6 April 2011 elections, Bagudu won for the PDP with 173,595 votes. His predecessor Adamu Aliero, who had moved to the Congress for Progressive Change (CPC), came second with 137,299 votes and Aliyu Bello Mohammed of the Action Congress of Nigeria (ACN) trailed with 11,953 votes.
During the 2015 General Elections, Atiku Bagudu then moved from the ruling PDP to the All Progressive Congress (APC) and contested for the Governorship, winning a landslide victory in the polls.
In the 9 March 2019 Kebbi State gubernatorial election Bagudu polled 673,717 votes, while his rival Sen. Isah Galaudu of PDP polled 106,633 votes.
He will serve as Budget and Economic Planning
DR. YUSUF T. SUNUNU (KEBBI STATE):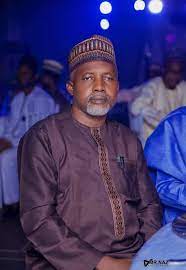 Dr. Sununu was born 2nd February 1967 in Kebbi State. From 1992 – 1996, he obtained a Bachelor of Medicine, Bachelor of Surgery (MBBS), FWACS, FMAS, DMASMedicine, Obstetrics and Gynaecology, Minimal Acceess Surgery in College of Medical Sciences, University of Maiduguri.
Dr. Sununu was a Member of Board of Management Federal Medical Centre Katsina (2013), Member of Board Management Usmanu Danfodiyo University Teaching Hospital Sokoto(2018).
Yusuf Tanko Sununu is a Nigerian politician, Obstetrician & Gynaecologist. He is a member representing Yauri/Shanga/Ngaski Federal Constituency of Kebbi State.
He will serve as Minister of State Education
DR.MORUFU OLATUNJI ALAUSA (LAGOS STATE):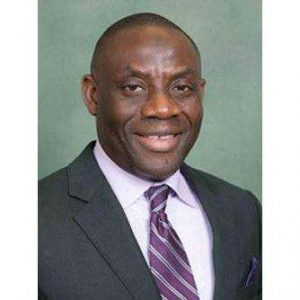 Dr. Morufu Alausa graduated from the University of Lagos College f Medicine in 1993. He is a nephrologist practicing in Joliet, IL. Dr. Alausa specializes in the care and treatment of the kidneys.
He will serve as Minister of State, Health and Social Welfare
LOLA ADE-JOHN (LAGOS STATE):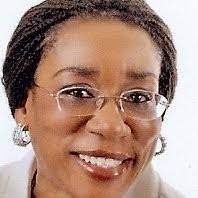 Lola Ade John's academic journey started from the University of Ibadan where she obtained a B.Sc. in Computer Science in 1984. Her Second Class Upper honours grade earned her the spot as the top graduate of her class that year.
Lola Ade-John is a banking expert. Before her appointment, she worked with Access Bank, United Bank for Africa (as head of applications), Ecobank, and Novateur Business Technology.
Lola Ade John's nomination has garnered attention due to her impressive track record in the banking and technology sector.
She will serve as Minister of Tourism
BOSUN TIJANI (OGUN STATE):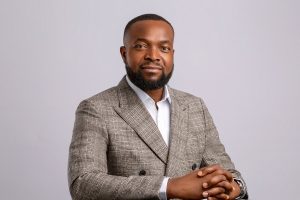 Bosun Tijani was born on 20th July 1977. Tijani is a Nigerian-British entrepreneur and co-founder of Co-Creation Hub (CcHUB), the leading Pan-African innovation and technology centre.
He was born in Agege, Lagos, Nigeria and spent his formative years there before moving to Abeokuta, where he hails from, for his secondary education.
Tijani resides in Abuja, Nigeria and Leicester United Kingdom with his wife, Moji Tijani and three children. He is an avid fitness enthusiast and football lover.
Bosun Tijani will serve as Minister of Communications, Innovation and Digital Economy.
ISHAK SALAKO ADEKUNLE ADEBOYE (OGUN STATE):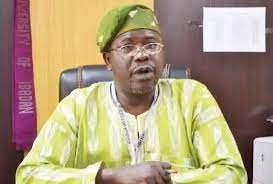 Ishak Salako was born on 23rd July 1959. He is a medical practitioner and politician. He has served as a Commissioner for Health in Ogun State, where he made significant contributions to community health services and programs.
Ishak Salako will serve as Minister of State, Environment and Ecological Management.
ADEWALE EDUN (OGUN STATE):
Wale Edun, a native of Ogun State, holds a Bachelor's degree in Economics from the University of London and a Master's degree in Economics from the University of Sussex, England.
In 1999, he was appointed as Commissioner for Finance in Lagos State, a position he held for two terms (1999-2007) under President Tinubu (then Lagos governor).
He will serve as the Minister of Finance and Coordinating Minister of the Economy
HON. OLUBUNMI TUNJI OJO (ONDO):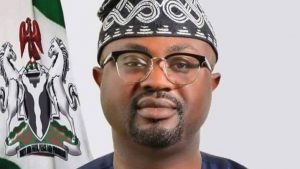 Olubunmi Tunji-Ojo, popularly called BTO was born in Oyin Akoko, Ondo State, Nigeria. He attended Ansarudeen Primary School, Oyin Akoko from 1987 to 1990 and Hakda International school in Kaduna from 1990 to 1992 before completing his primary education at Universal Primary School, Akure in 1993.
Before his advent into politics, Olubunmi Tunji-Ojo was an accomplished business and management executive with a flourishing career in ICT, becoming the CEO of a leading indigenous ICT consultant company in Nigeria, Matrix IT Solutions Limited, at the age of 24. As a professional, he holds a certification in Ethical Hacking and Counter Measures. He is also a certified CompTIA Network Plus Engineer and a Britannia Hardware A+ Management Certificate Holder.
Olubunmi Tunji-Ojo is married to Abimbola Tunji-Ojo who also hails from Ondo State and they have two children.
He will serve as the Minister of Interior
ADEGBOYEGA OYETOLA CON  (OSUN STATE):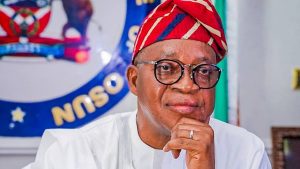 Oyetola was born on 29 September 1954. He started his secondary education at Ifeoluwa Grammar School, Osogbo and graduated in 1972is a Nigerian politician who served as Governor of Osun State from 2018 to 2022.
He contested for the Osun State gubernatorial seat on the platform of the All Progressives Congress (APC) in the September 2018 gubernatorial election and won. On 23 March 2019, a tribunal declared him to have not been legally returned and ordered INEC to issue certificates of return to Senator Adeleke of the PDP, which was contested at the Court of Appeal.
On 22 March 2019, the Election Tribunal sitting in Abuja declared that the All Progressive Congress and its candidate, Gboyega Oyetola, were not validly returned. On 2 August 2023, he was alongside 18 others, announced as ministerial-nominees by President Bola Ahmed Tinubu.
He will serve as the Minister of Marine and Blue Economy
ADEBAYO ADELABU (OYO):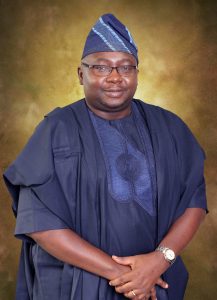 Adebayo Adelabu born 28 September 1970) is a former deputy governor, operations of the Central Bank of Nigeria and 2019 Oyo State gubernatorial candidate for the All Progressives Congress
Adelabu attended Ibadan Municipal Government primary school, Agodi Ibadan from 1976 to 1982 and Lagelu Grammar School, Ibadan from 1982 to 1987.
Adelabu received a first class degree in Accounting from Obafemi Awolowo University, Ile-Ife. He is a Fellow of the Institute of Chattered Accountants of Nigeria (ICAN), a Fellow of Chartered Institute of Bankers of Nigeria and an Associate Member of the Institute of Directors of Nigeria and the United Kingdom.
Adelabu resigned from Central Bank Nigeria with the intention of seeking election into the governorship position of Oyo State in 2019. He made his intention official on June 20, 2018, when he visited the All Progressives Congress party secretariat in Ibadan to make his declaration and also pick up the governorship aspirant form.
He will serve as the Minister of Power
NYESOM WIKE (RIVERS):
(born 13 December 1967) is a Nigerian politician, lawyer and the current minister of the Federal Capital Territory. He previously served as the Governor of Rivers State from 2015 to 2023. He is an Ikwerre from Rumuepirikom in Obio-Akpor, Rivers state. He is a member of the Peoples Democratic Party and was educated at Rivers State University of Science and Technology.
Wike attended Government Secondary School Eneka in Obiakpor, Rivers State where he sat for his O'level exams before proceeding to the Rivers State University of Science and Technology (RSUT). He obtained a Bachelor of Laws degree from RSUT before proceeding to Law School in 1997. Wike holds a Master of Arts degree in Political and Administrative Studies from RSUT.
Wike was elected as a two-term Executive Chairman of Obio Akpor Local Government Area from 1999 to 2007.
He will serve as Minister of Federal Capital Territory
BELLO MATAWALLE (ZAMFARA):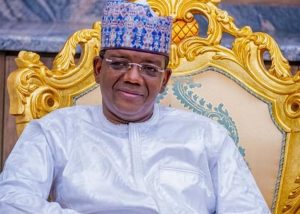 Bello Muhammad Matawalle was born 12 February 1962 or 1969, in Maradun, which at the time was in the North-Western State. He obtained First School Leaving Certificate from Maradun Township Primary School in 1979. He graduated from VTC Bunza in 1984. He attended Yaba College of Technology, Lagos and later went to Thames Valley University, London is a Nigerian politician and teacher. He previously served as the governor of Zamfara State from 2019 to 2023.
He worked as a teacher at Government Girls College Moriki and Kwatarkoshi before joining the Federal Ministry of Water Resources. Matawalle's first shot in politics was in 1998 when he ran for a house of assembly seat and won after he left the Federal Ministry of Water Resources, Abuja, joining the defunct United Nigeria Congress Party (UNCP) which consisted of politicians such as Ambassador Isa Aliyu Mohammed Argungu (Sarkin Yakin Kabbi) former Minister of Water Resources and National Chairman of the party, Ibrahim Gusau former pro tem National Chairman of the party, Atiku Abubakar, Abdullahi Aliyu Sumaila, Attahiru Bafarawa, Adamu Aliero, Suleiman Takuma, Ibrahim Kura Mohammed, Ibrahim Saminu Turaki and Kabiru Ibrahim Gaya but after the death of Sani Abacha, Nigerian Military Head of State on June 8, 1998, Abdulsalami Abubakar, his successor, dissolved the political parties and announced that elections would hold in 1999.
Matawalle is married to four wives and has children.
He will serve as Minister of State Defence
BELLO MUHAMMAD GORONYO (SOKOTO STATE):
He will serve as Minister of State, Water Resources and Sanitation
ABUBAKAR KYARI CON (BORNO):
He will serve as Minister of Agriculture and Food Security
SA'IDU AHMED ALKALI:
He will serve as Minister of Transportation
SEN. IBRAHIM GEIDAM (YOBE):
He will serve as Minister of Police Affairs
UBA MAIGARI AHMADU (TARABA):
He will serve as Minister of State, Steel Development
ZEPHANIAH JISALO (FCT):
He will serve as Minister of Special Duties and Inter-Govermental Affairs
SIMON BAKKO LALONG (PLATEAU STATE):
He will serve as Minister of Labour and Employment
MUHAMMED IDRIS (NIGER):
He will serve as Minister of Information and National Orientation
ALIYU SABI ABDULLAHI (NIGER):
He will serve as Minister of State, for Agriculture and Food Security
IMAAN SULAIMAN-IBRAHIM (NASARAWA):
He will serve as Minister of State, Police Affairs
SHUAIBU AUDU ABUBAKAR(KOGI):
He will serve as Minister of Steel Development
JOSEPH UTSEV (BENUE):
He will serve as Minister of Water Resources and Sanitation
YUSUF MATAMAH TUGGAR (BAUCHI):
He will serve as Minister of Foreign Affairs
MUHAMMED ALI PATE (BAUCHI STATE):
He will serve as Coordinating Minister of Health and Social Welfare
LATEEF FAGBEMI (KWARA STATE):
He will serve as Attorney General of the Federation and Minister of Justice