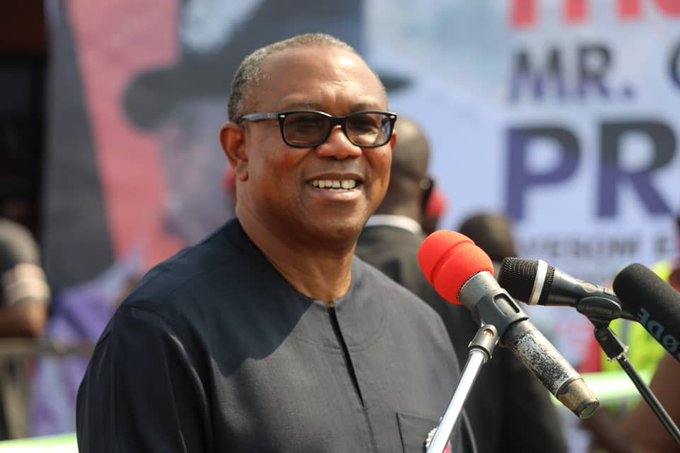 OPINION: PETER OBI, THE OVERRATED MR. NOBODY
Read Time:
6 Minute, 7 Second
By: Shehu Bashir Esq.
In the last few days, the Social Media have been awash with report of alleged fake certificate allegedly belonging to Labour Party presidential candidate, Mr. Peter Obi. We have also witnessed the public display of candidates' details by INEC and how the much pseudo rated Obi has disappointed his followers by presenting "GCE degree" result to INEC as his highest level of education contrary to the "Kenbrige sabitikat" they were claiming he had.
While some of us are aware of these facts ab initio and are not expecting anything better from the Peter, just as his followers refuse to accept the fact that their candidate's political profile is as empty and as feeble as his educational qualification, we begin to wonder, what is the motivating adrenaline for this vague hope of seeing Obi winning the next presidential election. Tufiaka!!!
By any measure of intelligence, save for the cunning crookery move to hide his questionable wealth in a tax heaven and illegally investing state fund in family owned business, Mr Peter Obi possesses no impressive intellectual sagacity to admire. Every claim from him has been a ruse. No intelligent man would want his kids listen to any presentation from Peter Obi, such is usually offensive to intellectual hearing.
Surprisingly, like a ghost last by its own darkness, both Peter Obi and his followers have failed to even attempt to defend the disgraceful certificate scandal, let alone providing any convincing defence at that. It has been a grave silence from the people who have hitherto been mocking their imaginary false claim that other candidates are not as educated. Their usual trumpet of decency claim has suddenly gone muffled and hoarse and they can't even speak anymore, not even as loud as the tiny volubleness of their principal.
From day one of his entrance into the presidential race, going by the few video clips of his that I have watched, with him making goofy presentations, I have long concluded that Peter Obi is a nobody in the scheme of things, intellectually and intelligently. He is a bogus noise maker and at worst a dullard. He is unarguably the dullest among the presidential candidates. There are so many evidence to this claim. He is too basic in knowledge and almost zero in specialized intelligence. He has only been using the general sentiment of bias against the current federal administration and the candidacy of APC, especially, to promote his electoral valuelessness. It is a dangerous trend.
Since his fray into this contest, I have asked myself repeatedly on what is Peter Obi's game plan to win this election. How does he intend to do it and who are his targeted voters. My conclusion is that – he has no particularly coherent strategy other than incitement.
First, Peter Obi is not in this contest to win the presidential election, he is here to achieve two basic dangerous aims:
(1) create ethno-religious tension, discredit the election itself when he loses and cause crises in the country.
(2) take advantage of the tension he might have caused to argue for justification for secession of the part he comes from.
It will not take too much discerning intellectuality to decipher this.
Peter Obi is a divisionist, a seditious rabble-rouser, his basic agenda is to plunge this country into ethno-religious crises. Every patriotic Nigerian has a duty to ensure he doesn't achieve any of his two aims – Nigeria presidency and disintegration, we have to stop him electorally.
Let us x-ray it. What is giving him so much gut except that he is playing to the gallery. He has never answered any questions correctly and intelligently. He has no definitive campaign blue print except for his waging tongue "naanu" words-shortage blabbing. Not even his "we do" vice is smart enough to fill the gap. All Obi is doing is running from one church to the other to incite religious crises. His latest video in a church, where he was brainwashing the innocent church congregation to "take back your country" would have ordinarily be the singular reason for his disqualification from the race, but INEC would choose to consider other factors before such law can be enforced. Otherwise, that was a flagrant violation of Electoral Act.
It will only be sensible to compare Asiwaju Tinubu's presentations, how he has been promoting religious unity to what Obi has been vituperatively oozing out, we can see that the difference is clear between the one who wants to keep this country together and the other who wants to break Nigeria out of desperation.
I have asked myself, on what premise is this man contesting. What platform is he building his advantage from – he has failed to make reference to any landmark project he did while he was the governor of Anambra State. He has not even visited his South East region, let alone his lovely state, Anambra, since he secured the presidential ticket. I thought he is aware of the political parlance that says "politics is local". Ironically, he has been campaigning on the echo of "antecedents, capacity, credibility, integrity, and sincerity" all of which he does not have.
What is the antecedent of a man who cannot point to a single signature project in his home state?. How does he want to build and mentor new generation leaders when he is at loggerheads with his two successors? What integrity do you have when you cannot even honour a Judicial Panel of enquiry when you were invited to testify at Endsars panel? What capacity do you have when you cannot rein in the violent agents in your state, killing innocent people and forcing people to stay at home? He hasn't even expressly condemned their acts for once. Who does he think he is deceiving?
Nigeria cannot afford to vote for a man who wants to use us to score vindictive point. We do not need a man on vengeance mission to break Nigeria. Same as I am convinced and scared that Peter Obi's presidency may end Nigeria as we have it, I know Atiku's presidency is among other selfish reasons, to restore his control of our Port concession back to Intel, his company. None of them is fit to rule this country.
As a decoy to hurriedly bury his disgraceful claim on his education status, Mr. Obi quickly organized rallies in some States, to change the tune, forgetting that reallies will come and go, his complicity in what he illegally claimed will remain.
I know alot of his followers are in the blind of ignorance to the reality on ground and there is almost nothing you can tell them in the immediate that will make them reason objectively because they are coming with a dangerous tribal-religious ladened mentality, we will only need to take it easy with them and pray that their opaque disposition to objectivity is made transparent by the dispensation superior arguments.
We will not be tired, we will not be distracted, we will not lose focus, we are Progressives. We will continue to tell them that the first most important assignment for all of us is to keep Nigeria safe and as one, anything to the contrary is a no no! And anybody promoting the country's disintegration, covertly or overtly will fail in such mission, Amin.