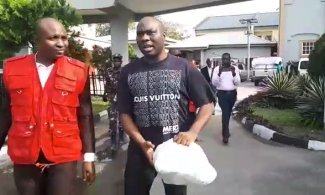 ALLEGED MONEY LAUNDERING: DEFENSE COUNSEL'S ABSENCE STALLS MOMPHA'S TRIAL
Read Time:
1 Minute, 29 Second
By Aishat Momoh. O.
The trial in the alleged N6 billion money laundering case against Ismaila Mustapha (alias Mompha) was delayed on Wednesday due to the absence of his defense counsel.
Due to Gboyega Oyewole (SAN), the defense counsel, being absent, Justice Mojisola Dada of the Ikeja Special Offenses Court delayed the case to December 16 for trial.
Suleiman Suleiman, the attorney for the Economic and Financial Crimes Commission (EFCC), had previously notified the court that the prosecution was present in court with two witnesses because the court had set the date for the trial to begin.
But Mr. Suleiman let the court know that the principal defense attorney wasn't present.
"There is no representation for the defence and I tried reaching the junior counsel who said that the SAN ought to be here," he said.
As a result of the defendant's failure to appear in court, the court ordered on September 21 that the defendant's trial begin in his absence.
On January 22, the EFCC charged Mompha and his business, Ismalob Global Investment Ltd., with eight counts of money laundering involving N6 billion.
A bench warrant for Mustapha's arrest had been issued by the court on June 22 as a result of his absence from court.
Additionally, Ms. Dada revoked the defendant's bail.
However, on June 16, the social media star failed to appear in court.
Meanwhile, on June 10, the EFCC charged him with disobeying the court's order by traveling to Dubai with a fresh passport from another country.
Mompha is accused of conspiring to launder money received through illegal means as well as money obtained via illegal means.
Others include failing to disclose assets, using property obtained via illegal activity, possessing a document bearing false pretenses, and keeping the proceeds of criminal activity.