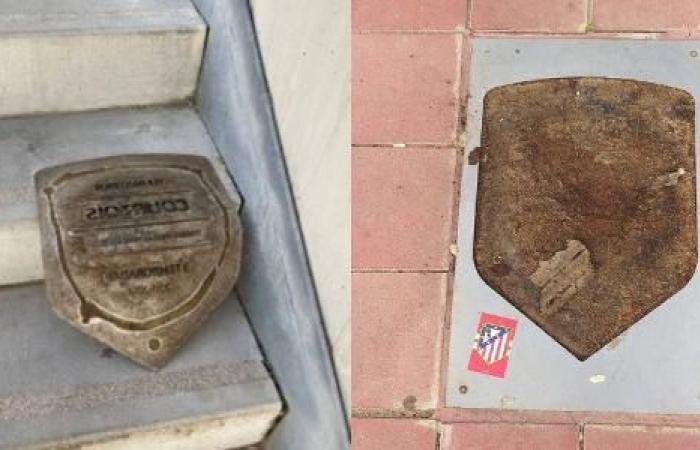 ATLETICO FANS REMOVE THIBAUT COURTOIS' PLAQUE AFTER REAL FINAL
Read Time:
1 Minute, 19 Second
Thibaut Courtois' plaque on Atletico Madrid's "walk of legends" outside the Wanda Metropolitano stadium has been removed after fans reacted angrily to the goalkeeper's comments ahead of the Champions League final.
From 2011 to 2014, Courtois, 30, spent three seasons on loan with Atletico Madrid, winning La Liga but losing the Champions League final against Real Madrid, whom he later joined in 2018.
It is unknown who was responsible for the removal of the plaque, which are dedicated to all Atletico Madrid players who have made over 100 appearances.
When asked about calls for the plaque to be removed on Monday, Atletico president Enrique Cerezo appeared to encourage fans to take matters into their own hands.
He urged reporters, "Take a pick and shovel and go and remove it."
Prior to last Saturday's Champions League final, Courtois made a reference to his 2014 final loss, which Madrid won 1-0 over Liverpool in Paris after Courtois made a series of spectacular saves.
In a pre-match press conference, Courtois said, "It was different for me [in 2014]." "Whenever Real Madrid plays in a final, they always win, so I'm on the right side of history now."
That comment did not go down well with Atletico fans, who took it as a jibe aimed at their club.
Even the mayor of Madrid Jose Luis Martinez Almeida — well known as an Atletico supporter — mentioned the remarks in a ceremony during Madrid's trophy parade on Sunday, saying "those of us who cried with you in Lisbon [the venue for the 2014 final] were on the right side too."
0
0
By Adeniyi Onaara Major General Muhammadu Buhari (ret. ), the president, stated on Sunday that it was instructive that Nigeria...