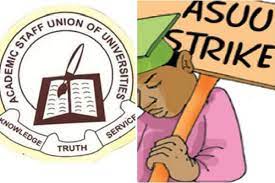 UPDATE: FG APPROVES BREAKAWAY FACTIONS OF ASUU
Read Time:
2 Minute, 6 Second
The Federal Government has attempted to give a certificate of registration to the Congress of Nigerian University Academics (CONUA), a breakaway section of the lecturers' union, in an effort to split the ranks of the Academic Staff Union of Universities (ASUU). The certificate presentation to CONUA is scheduled to occur on Tuesday, October 4, according to reports.
Dr. Chris Ngige, minister of labor and employment, will make the presentation. The information was included in an invitation sent to reporters on Tuesday by Oshundun Olajide, the Federal Ministry of Labour and Employment's Deputy Director of Press and Public Relations.
The invitation reads: "The Honorable Minister of Labour and Employment, Dr. Chris Ngige cordially invites you to the recognition and presentation of Certificate of Registration to the Congress of Nigerian University Academics (CONUA).
"The Programme is scheduled to hold as follows:
"Date: Tuesday, 4th October 2022
"Venue: Hon. Minister Conference Room, Federal Secretariat, Phase 1, Abuja.
"Time: 2:00pm
CONUA, a breakaway faction of ASUU, is led by its National Coordinator, 'Niyi Sunmonu, a lecturer at the Obafemi Awolowo University (OAU), Ile-Ife. Though the organisation currently enjoys marginal presence in few universities across the country, it is seen as a strategic move by the government to break the ranks of the striking lecturers and woo some of them back to the classrooms. Attempts to cajole or coerce ASUU to drop the nearly eight-month strike in the public universities, through many measures including intimidation by the government and court action, have not broken the resolve of the members.
ASUU has been on strike since February 14 to press home its demands. The strike is due to the failure of the Federal Government to renegotiate the agreement it signed with ASUU in 2009 including adequate funding of the system, replacement of the Integrated Personnel Payroll Information System (IPPIS), with the UTAS, as the payment platform in the university sector, among others.
The teachers claim that IPPIS has never been used in a university system anywhere and add that the system closes the doors to foreign academics, contract employees, and researchers who are required to be hired off of the books at already-established institutions in order to establish new ones.
The funding model, according to the Federal Government, is for transparency and was not intended to interfere with institution autonomy.
The National Industrial Court ordered the institution to resume operations on September 21, 2022, but the university teachers have stayed steadfast.
Last Monday, ASUU appealed the judge's decision through legal counsel.