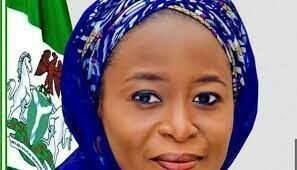 BAUCHI COMMISSIONER RESIGNS AFTER FATHER'S DISMISSAL FROM TRADITIONAL COUNCIL
Read Time:
1 Minute, 24 Second
The Commissioner of Cooperatives and Small and Medium Enterprises Development, Sa'adatu Bello Kirfi, has resigned her position hours after her father was stripped of his traditional title as Wazirin Bauchi and expelled from the Bauchi Emirate Council.
Reports reveals that he was removed over his allegedly showing "disloyalty and disrespect" to the State Governor, Bala Mohammed.
For the second time in five years, Kirfi, a retired federal employee who served as a Second Republic Minister and a former Minister of Special Duties, was stripped of his traditional title and forced to step down from his position as a Senior Member of the Bauchi Emirate Council.
In a letter dated January 3, 2023, addressed to him and bearing the subject line "Dismissal from office as a Council Member and Traditional Title of Wazirin Bauchi," Alh. Shehu Mudi Muhammad, Secretary of the Bauchi Emirate Council, informed him of his removal.
He was first fired by the Bauchi Emirate Council in March 2017 for allegedly engaging in "disloyal and disorderly behaviour" during the administration of Governor Mohammed Abubakar.
After Bala Mohammed's father was fired, Sa'adatu announced her resignation as a Commissioner and a member of the State Executive Council. She did so in a letter headed "Letter of Resignation" that was dated January 4, 2023 and addressed to the governor through the Secretary to the State Government.
"Your Excellency, I wish to humbly tender my resignation as a member, Bauchi State Executive Council and Hon. Commissioner Ministry of Cooperatives and SMEs Development, Bauchi State with immediate effect.
"I wish to thank His Excellency the Executive Governor for giving me the opportunity to serve my State under your Administration," she wrote in her letter.