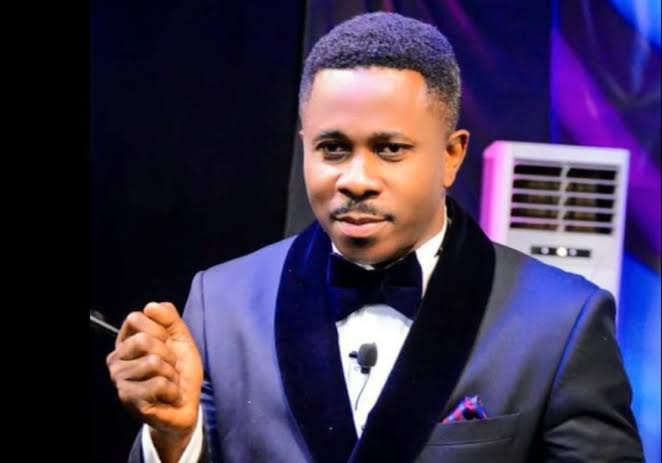 FEYI DANIEL: HOW MY PASTOR TRIED TO HAVE HIS WAY WITH ME SEVERALLY – FOURTH PROSECUTING WITNESS
Read Time:
8 Minute, 11 Second
By Aishat Momoh. O.
The ongoing alleged sexual assault trial against Bishop Oluwafeyiropo Daniels, the Founder and senior Pastor of 'I reign Christian Family' church continued with two other witnesses who were also former members of the ministry.
A fourth Prosecuting witness and former member of the church, while giving her evidence before Justice Ramon Oshodi, of the Sexual Offences and Domestic Violence Court narrated has narrated how her spiritual father had attempted severally to have his way with her.
The 22-year-old said that, the first time she met the defendant was in October 2019, when he came to one of his Spiritual son's house in Apapa, Lagos, where the ministry was going to start a cell meeting and she was to lead praise and worship session.
She said, "Brother Godswill wanted me to lead them in praise and worship but i arrived late. When i got to the meeting, i noticed that Feyi Daniels was staring at me from the beginning of the session till the end.
After the meeting, people were taking pictures, so, i joined them and Feyi and I got into a conversation. He asked me what i was doing at that time and i told him nothing. He also asked about my family. Feyi said he will pray for me and i will get a job. Then, he asked how much i had in my account. I told him that i that i didn't have up to N5000 in my account. He told me to come with any amount i have to the Island branch the next Sunday.
On Sunday, i took the 3k i had to church and gave it to him after service. He prayed for me and told me he wanted me to join the choir.
The next Sunday morning, he chatted me to ask about my school. At that time, i was in my mum's church. He said he has a foundation that gives scholarship. So he requested for my parents' number which i gave. He called me immediately and asked if i was a virgin. He hung up immediately i gave him my response and on that same evening, i went to 'I reign Island Branch.
So, after the service, we started talking about my family and he got to know that i was not in good terms with my parents and they never wanted me to be with him.
When the mainland church was opened, I wasn't frequent in the service because of my parents. I told him about it but he wanted me on ground because i sing.
During Covid period, he asked me to come to his house in Lekki, so we could talk about the treatment my parents were giving me. They didn't give me the freedom to worship where i wanted to be.
Feyi Daniels and I concluded that, i was going to leave my parents' house and i will stay in church. He said i should not tell anyone and he also told Peace, his keyboardist, who was also, living in the church not to let anyone know i was there.
My dad kept calling, my brother's texting but, i never spoke with anyone of them for a week. My younger sister called and informed me that my dad was going to declare me missing to the Police. I agrees to speak with my dad.
Feyi said i should tell him that i was working in Ibadan and that is where i like to stay. My sister called again and told me that my dad had gone to look for me at the church. I told Bishop and he said i should report at 'Area F'. I reported to the woman i met there and explained that i didn't want to stay with my parents anymore. She spoke with my father and told him where i was. I never granted my father access until the day i went home three months after."
The witness further explained to the court that in November 2020, when the church was supposed to have its second year anniversary for the mainland branch, she had spent two nights at the defendant's house prior to that time.
"In early June 2020, he sent bro. Kenny to ask me to bring his laptop to his house in Lekki. He went to get fuel and asked me to cook for us. While i was cooking, he told me Pastor David and his wife are coming to the house.
During my stay, i noticed the couple started monitoring me especially when i'm with the Bishop. On the day i was supposed to leave, Joan came, she escorted me with my bag and she kept on looking at me suspiciously. That was the first time i would meet her.
In November 2020, Feyi was in the church in preparation for a program. While he was staying at the church, he started using my Facebook account to chat with Joan because, i got to know about a rape case. I was seeing stuffs online but he told me that some of the ladies are angry because he didn't stick to one of them. He said one of then wanted her to to herself.
While blasting these people on Facebook, i started doing the same. His wife got to know that i spent some days in his house and she was angry.
One day, Feyi called me into his office and asked me to look for his pillow. Prior to that time, i noticed that he gave me money to make my hair. So, when i was looking for the pillow, he locked his office door, grabbed me and tried to kiss me. His eyes were red and he was very angry. He told me that people he sleeps with does not get money from him the way i do.
After the Covid Pandemic, when church started, Prophet Adeoye came to the church to address the workers on a Saturday. He sid, 'Whatever happens is not enough to turn your back against your father." Feyi later apologized and asked for forgiveness.
In January 2021, he started giving me some teachings concerning working on my conscience. He said he wanted to teach me on how to be able lead praise and worship after having sex with a man.
On 4th of April 2021, after Sunday service, he called me to his office. He said the reason why he slept with his Junior pastor is about happening again. He said he usually sees pictures of naked and anytime he does, he would want to sleep with any lady around. He also said he has told prophet Adeoye, about it and that he should sleep with me afterwards, i should pray for him and he wouldn't see those pictures anymore.
On Friday of that week, he came to the church because he was going to leave for Ghana the next day. Around 2am, sister Faith came to wake me up that papa was calling me. He asked what my decision was on our previous discussion. I told him i couldn't do it. He was very furious and then he showed me a text on his phone which reads, Ask her to do it, she will do it.' I sensed that he was the sender and he was disappointed.
He told me that it was because i held my body in high esteem and whatever i hold so dear, i should be able to give my spiritual father. He said i was never going to be successful because i didn't give in to him.
After a while, Feyi sent me a message saying he saw me in an accident because of dishonor. The next day, he called me that every morning, i should be sending him a message saying, 'I will do what you want me to do, i will be what you want me to be, i am yours.
Anytime I don't send the message, i will have to transcribe one of his messages 'Honor and the Ego of Rebellion. I transcribed that message about ten times because of my refusal.
In May 2021, Feyi came to church, i was preparing to JAMB at that time, he called me into his office and started manipulating me. He started breaking down the messages and told me that i am his.He grabbed me between his legs, forcefully took off my shirt and he said the bra i'm wearing who bought it for me.
He grabbed me closely and started sucking my breast. I was struggling because he slapped me. I told Sister Faith and she explained that he has also tried to manipulate her.
On Sunday, which was he birthday, he sent someone to call me and he started apologizing.
In 2022, we went for a training in Ogun state. On the last day of the training, he called me to his office to go naked. I started Crying that i couldn't do it. He said he would give me the kind of slap his spiritual father gave to him. He tried to have his way with me and started choking me and held my leg.
Afterwards, there was a knock on the door and he quickly locked in his bathroom. When he finished with the person, i was already dressed and he was crying. He told me i was wicked after everything he had done for me.
I told my mentor everything that had happened and i left the church after i got back from Kogi because he had told me that of i didn't give it to him freely, there would be bruises.
After her examination-in-chief, the defense counsel requested for a date to cross-examined the witness.
Justice Oshodi adjourned the matter to June 15th and 16th for Continuation.