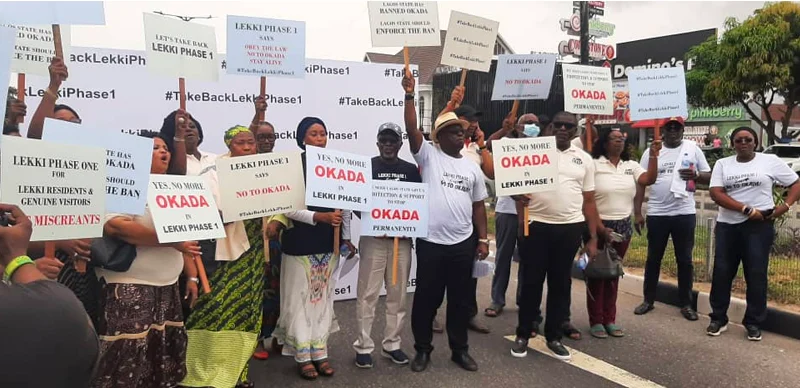 NEWS UPDATE: LEKKI PHASE 1 RESIDENTS ASSOCIATION BARS OKADA ON INNER STREETS
Read Time:
1 Minute, 54 Second
On inner streets and roads in the neighborhood, the Lekki Phase I Residents Association has outlawed commercial motorcycle operators, also known as Okada riders.
Mr. Yomi Idowu, Chairman of LERA, announced the ban on Thursday while speaking to journalists about security lapses in the area.
During the press conference, some people demonstrated against Okada riders' activity in the region, holding placards with various messages.
Idowu urged the Lagos State Government to implement the law prohibiting Okada riders from operating within the state.
Governor Babajide Sanwo-Olu has banned Okada riders in Ikeja, Surulere, Eto-Osa, Lagos Mainland, Lagos Island, and Apapa, effective June 1.
"We in Lekki Phase I cannot continue to put our people's lives in danger." As a result, we are taking preventive actions by prohibiting Okada riders from riding with immediate effect. "On our roadways and inner streets, we choose to live and say no to 'Okada," he remarked.
He also urged the Ministry of Physical Planning and Urban Development and the New Towns Development Authority to remove hoodlums and miscreants from the community's unfinished buildings.
The shooting of a sound engineer, David Imoh, in Lekki, was described by Idowu as "dastardly, animalistic, and mindless."
According to intelligence inputs reaching us, following the raid on Okada riders and subsequent confiscation of their bikes by officers of the Lagos State Taskforce in Lekki Phase 1, the riders, believing the action was prompted by Lekki residents, are plotting to assault the locals," he added.
"This isn't the first time people in Lekki Phase I have been terrorized by motorbike riders." Indeed, Okada has been a nuisance to the environment, with many people engaging in reckless behavior. The security situation in Lekki Phase I has obviously deteriorated.
"It is imperative that we all take a collective stance and formulate joint initiatives to avert a total exposure to imminent security threats to the lives and assets of our residents."
Chief Emeka Nweze, a member of the Board of Trustees, noted that the Okada riders' customers are mostly domestic workers and construction workers.
Chief Nweze has urged the state administration to guarantee that people who own underdeveloped properties begin to improve them or face having their assets confiscated.
"We can't keep harboring criminals in such unfinished structures." Residents are at risk, "he stated.