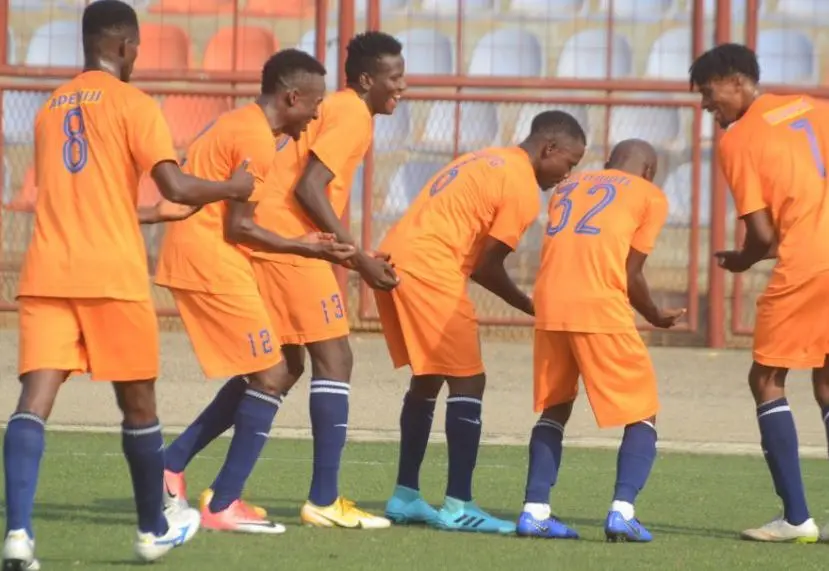 NPFL: "NOT THE TIME TO CELEBRATE" SUNSHINE TECHNICAL ADVISER WARNS CLUB AFTER NASARAWA WIN
Read Time:
2 Minute, 21 Second
Technical Adviser of Sunshine Stars, Emmanuel Deustch on Sunday insisted that the club must continue to fight in order to have a glorious finish as the league days continue to sieve away.
Speaking to Www.npfl.ng after his side's 2-1 win over  Nasarawa United in one of the MatchDay 32 fixtures of the Nigeria Professional Football League (NPFL), the Coach dedicated the victory to the fans and said his fulfilment will be determined by the final standing of the team on the log.
"I told you last time that i can't be happy because  the league never  ends.
"We won a battle but we haven't won the final- until we see our position in the final game.
"I would say Congratulations to the fans and everybody but for me ,not yet" he said.
While stating  that his boys showed good attitude in the first half, the Sunshine Stars head coach noted that they gave in to pressure in the second half due to their relaxed mood, adding that the three substitutions made by the visitors changed the dimension of the encounter.
Deustch, who stressed the importance of constructive feedback from the media said the team is keen to get the best of their subsequent encounters especially with the Aiteo's Cup schedule and their next league game against Niger Tornadoes.
The homers began the match brightly storming in to the game so early when Chigozie Chilekwu tapped in a drop in the box to send the Owena Whales into the lead in the third minute of the game play.
Thereafter, Leonard Ugochukwu snatched the second goal against his former side to the delight of the home fans in the 14th minute.
While the home side relished their edge, Chinedu Ohanachom lost a bid to put the visitors in the game as he failed to convert a one on one chance in the 22nd minute.
The Striker would eventually score the visitors' lone goal of the game in the 73rd minutes on the heel of their strengthened front line courtesy of the new players introduced.
Coach Bala Nikyu in his post match reaction, described the match as a good game for his boys even as he noted they weren't their best in the first half.
"It was a good game but it's unfortunate that we didn't get the first half right". Nikyu said.
He argued that his boys apparent grumbling against the Referee at the end of the match wasn't out of order given that it wasn't laced with insults.
The result sees Sunshine Stars moving up to 7th on the log with 45 points while Nasarawa United still remained 11th on the log.
Sunshine Stars will be on the road to face Niger Tornadoes in their next league game while Nasarawa United will play host to Rangers International FC.