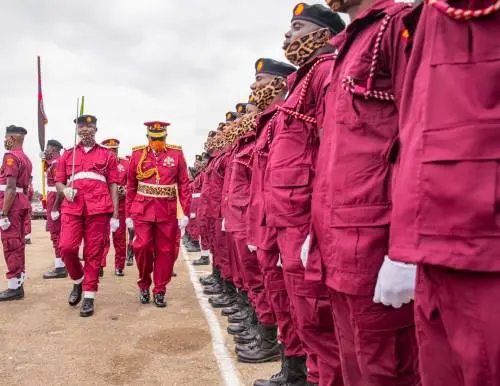 SECURITY: AMOTEKUN CORPS INTERCEPTS TRUCKS CONVEYING 151 CHARM-CARRYING INTRUDERS
Read Time:
1 Minute, 51 Second
The men of the Amotekun Corps, commonly known as the Ondo State Security Network Agency, stopped a vehicle carrying about 151 people who were thought to be intruders.
According to information obtained, the corps made the arrest in response to information about a terrorist invasion into the south-west of Nigeria.
Five women were among the suspects; they were concealed inside the trailers behind bundles of beans and rice.
They were stopped on Thursday by corps members who were conducting a "stop and search" after becoming suspicious of their movements in the Sango section of the Akure-Ado Expressway.
The suspects, according to the state commander of Amotekun, Akogun Adetunji Adeleye, were hidden inside the vehicle behind bags of rice.
He said, "We intercepted two trucks conveying 151 people who were cleverly concealed behind bags of rice and beans in a way that one may not know these number of people were tucked in the trucks.
"Upon interception, we asked of their destinations. Some said Akure, while others said Osogbo in Osun state. Although, we have not completed profiling them, as none of them has an idea of what they were going to do or their mission.
"All they were able to tell us is that they entered the vehicle and came to Ondo State.
"While searching the vehicles, we saw 10 bikes and various dangerous charms. If we check and do not find anything on them as long as they don't have anybody ready to take custody of them in Ondo state, we will send them back to their various states."
According to reports, the suspects were traveling to the South-West states of Kastina, Kano, and Jigawa states.
Some of them claimed to be from Jigawa, Kastina, and Kano states, but when asked how they came together, they claimed to be from all three but that a vehicle had brought them to Akure in Ondo State.
 
"This is not a positive indication, though, especially in light of the South Western states' security alert.
 
"We recognize their rights as Nigerians, but we are unsure of their purpose in being here." The man stated that we continue to believe that everyone should have a purpose and destination while traveling.