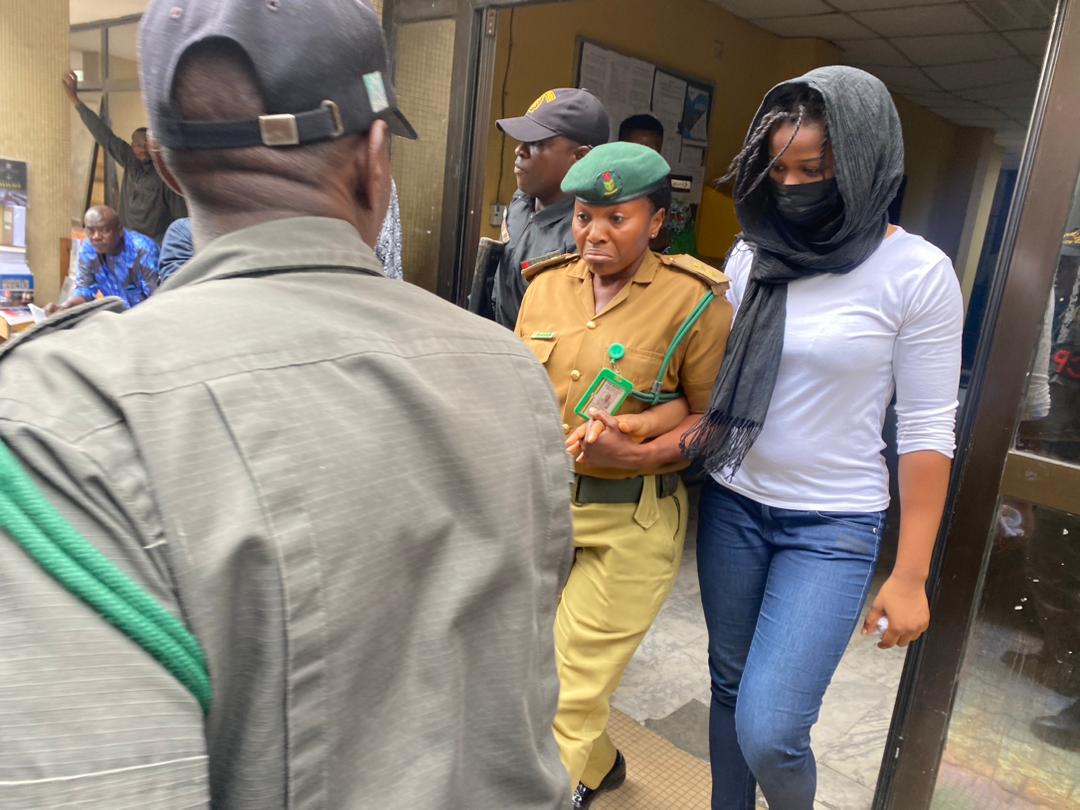 USIFO ATAGA: CHIDINMA WROTE HER STATEMENT BY HERSELF, NOBODY FORCED HER – POLICE WITNESS
Read Time:
3 Minute, 49 Second
By Aishat Momoh. O.
On Tuesday, an Assistant Superintendent of Police, Olufunke Madeyinlo said that nobody forced Chidinma Ojukwu to write a statement that was taken at the State CID, Panti, Yaba on the 24th of June, 2021.
On the previously adjourned date, the trial-within-trial was stalled due to the absence of the prosecuting witness who was out on a Jurisdiction duty.
The police officer while testifying before Justice Yetunde Adesanya, at a Lagos High Court sitting at the Tafawa Balewa Square, also mentioned that she saw Chidinma's foster father, Onah Ojukwu, moving freely adding that someone in custody can never have the kind of freedom he had when she saw him.
Madeyinlo, who has been serving in the force for 33-years revealed this while she was cross-examined by Chidinma's counsel, Onwuka Egwu, during the trial-within-a-trial.
Chidinma, a 300-level undergraduate of the University of Lagos, was arraigned alongside two others, Adedapo Quadri and Chioma Egbuchu on 12th October, 2021, on a nine-count charge over the alleged murder of Mr Ataga.
She and Adedapo Quadri, are facing the first to eight counts bordering on conspiracy, murder, stabbing, forgery, making of bank statements, and stealing.
They were alleged to have conspired and murdered Mr Ataga on 15th June 2021, by stabbing him several times with a knife in the neck and chest.
The incident took place at 19, Adewale Oshin Street, Lekki Phase 1, Lagos.
The third defendant, Ms Egbuchu, is facing the ninth count of receiving a stolen iPhone 7 belonging to the deceased.
Madeyinlo while she was giving her testimony also added that when she was taking the first defendant's statement, she didn't interact with her (Chidinma), except for the time she asked if she was okay with what she wrote in her statement and she answered.
She said, "On the 24th of June, 2021 the OC Homicide, Razak Oseni, brought the first defendant to my office for statement writing. I gave her a statement form and pen.
Thereafter, the Deputy Commissioner of Police, Adegoke Fayode sent for my OC to come to his office. He went but left the defendant with me in my office. After her statement, my OC came back about 40 minutes later to collect the statement and also, returned her back.
"Nobody forced her to write the statement, She wrote it by herself." She added.
However, during cross-examination, Mr Onwuka Egwu asked the police officer if one ASP Gbolahan Jenyo who shared office with her and two others was in the present when his client was writing her statement.
He also, enquired if the same Jenyo assaulted his client before she began to write her statement.
Madeyinlo stated that, "Jenyo was not there when I was taking her statement and he never assaulted her.
At the time my OC brought the first defendant, ASP Gbolahan was not around. It was only myself and ASP Bola Alabi that was around.
On that day, Chidinma was telling me that she wanted to eat and that I should look for something for her to eat. I sent for food for her and we gave it to her.
"During this period, I saw Mr. Onah Ojukwu, her foster father, moving freely. I don't think he was in custody because somebody in custody cannot be moving freely like that." She added.
Thereafter, Mr Onwuka requested that the court should adjourn the case till a further date to enable him and his team to put their house in order before Chidinma could take her defense.
Also, recall that on the previously adjourned date, Mr. Babatunde Busari, the second defendant's counsel had requested for an application that his client be granted bail as the series of adjournment has been delaying him from seeking Justice
He said, "However, the series of adjournment has delayed this matter severely and one of the consequences is that it has delayed the second defendant's seeking justice to the allegation of the prosecution against him.
"I do not oppose to the previous adjournment. This morning, I will be making a very passionate appeal that justice is not a one-way traffic while, I will not oppose the request for adjournment by the DPP this morning. I will be making an application that the second defendant be granted bail.
The court declined his request on the note that it was only going to grant the request if it was a special circumstance which his client did not meet.
Justice Yetunde Adesanya, further adjourned the case till 17th of November for continuation of trial.