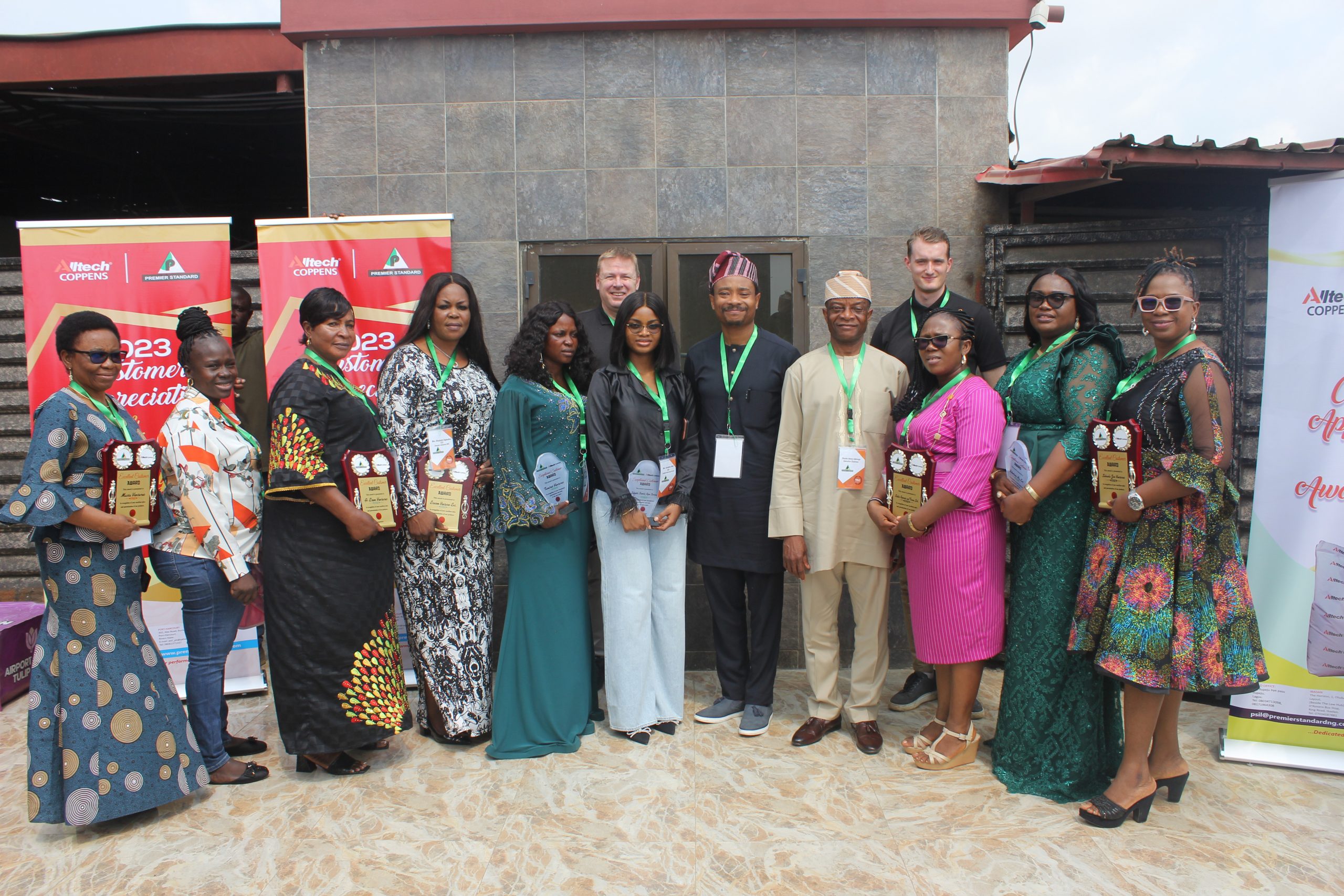 AGRO: PREMIER STANDARD REWARDS CUSTOMERS FOR TOP PERFORMANCE
Read Time:
3 Minute, 39 Second
By Aishat O. Momoh
In a bid to celebrate high sales performance and support business growth, Premier Standard Industrial Limited, has rewarded 10 best stakeholders for their excellent performance in 2022.
Premier Standard Industrial Limited has been in partnership with Alltech Coppens for over twenty years. They are known for the quality of best fish feed in Nigeria and Premier Standard is the sole importer across Nigeria and Ghana.
The Customer Appreciation and Awards presentation, which was held at the Airport Golden Tulip, Ikeja, Lagos recently, was an opportunity for the company to appreciate their loyal customers who have been with them and also trusted them (Premier Standard), with their fish farming businesses.
According to Babaseyi Adegbuyi, the Commercial Manager, he said that the company was having the program for the first time and it was organized to appreciate the customers while describing them as Kings.
"Without the customers, the company cannot achieve their goal. We have to treat them well. That's why I refer to them as kings.
The two-day event which commenced on 26th January, 2023 with a drink/meet-up session and dinner, marked another milestone in the history of the company, as the awards presentation is a pioneer event.
While speaking at the event on Friday, the Chairman; Premier Standard Industrial Limited, Otunba Idowu Fatai Adenuga, appreciated the suppliers and customers for their immense contribution to the growth and success of the company.
He advised the awardees to strive to improve more on their performances while noting that, this act will spur other stakeholders to do better in the year 2023.
He said, "We recognize our esteemed customers because they are the ones making the business happen, without them there is no business.
"I would advice those that have been awarded this year to strive to improve on their performance. Today's success could be an enemy on tomorrow's success. It is just the beginning of striving to greater heights." He concluded.
Also speaking at the event, was the Managing Director, Gbolahan Adenuga, who commended Alltech Coppens for their support and cordial relationship since the inception of the business and the distributors for effective delivery of products to the end-users.
He also appreciated the customers noting that; in 2022, the company had a vision and also set out a target to be achieved by them which prompted the award that most of them got.
"Our relationship with Alltech Coppens, has been a very fruitful one. We started small and we've been able to cultivate that relationship to the level that we are currently. We've had a very cordial relationship and we are satisfied with it" he said.
However, General Managing Director, Lafabids Interbiz Agro Services, Lawal Abdullahi Olarenwaju, who won the award for Exceptional patronization and Sales (Best Customer), encouraged farmers to give their best at what they do, adding that everyone should see that they add value into the lives of their customers in order to impact them.
He thanked Alltech Coppens, for giving farmers the opportunity to impact so many people's lives which according to him has given them a real sense of belonging that they can do more and better.
He also stated the fact that, Agriculture is the key to the future of Nigeria, noting that it is the job of every farmer to impact that idea in the minds of their customers by empowering them.
Mr. Cees-Jan, an Export Manager with Alltech Coppens and partner with Premier Standard, while giving his remarks, appreciated the company for the award he received.
He said, "I couldn't imagine getting this award, it is an award for excellent service and support in sales and marketing and I'm really honored by it."
Also, Cees-Jan also urged stakeholders not to hesitate to contact Premier Standard on how to optimize production while he emphasized that, they should always go for high quality feeds because, "on the long run, you create quicker growth and performance."
"Do not hesitate to contact our partners. We are here to improve fish farming and agriculture in Nigeria", he noted.
Dr Victor Dare, an astute business strategist was the business consultant for the award ceremony while the event was hosted and anchored by Yinka Leke Adegbuyi, a renowned public speaker.
Other customers expressed their appreciation for the awards received. They reaffirmed their loyalty and support for the growth of the company.