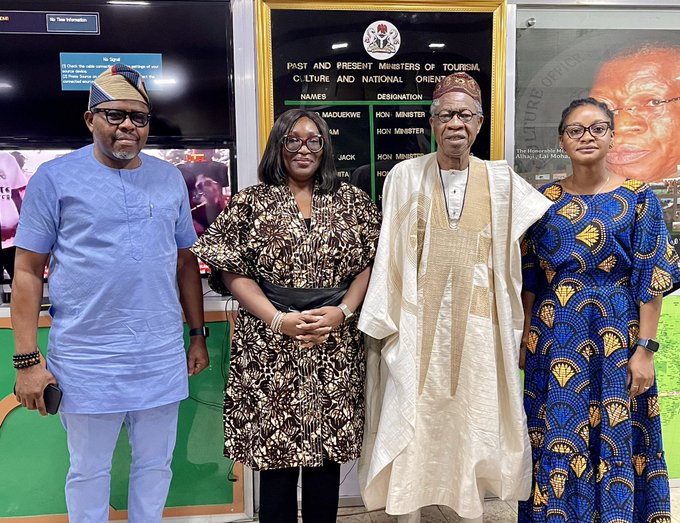 2023 ELECTIONS: LAI MOHAMMED URGES GOOGLE, FACEBOOK TO CURB FAKENEWS
Read Time:
2 Minute, 53 Second
By Aishat Momoh. O.
Before the 2023 general elections, Alhaji Lai Mohammed, the minister of information and culture, has requested that Google and Meta, the owners of Facebook, WhatsApp, and Instagram, stop the propagation of false material on their platforms.
The Minister announced the decision on Friday in Abuja while having a meeting in his office with officials of Meta and Google, the company that owns YouTube and other platforms.
"It is no longer news that the use of social media is now a critical factor in national elections, and no nation, including Nigeria, is immune. With a predominantly youthful population, Nigeria ranks among the countries with the highest number of users of the various social media platforms, especially Whatsapp, Facebook, Twitter, Instagram, YouTube and TikTok.
'The use, or misuse, of these platforms is therefore of great concern to all stakeholders in the elections, and that's why we have invited you here, so we can all jointly work to ensure a responsible use of these platforms so that they don't become the platforms of choice for purveyors of fake news and disinformation," he said.
According to Alhaji Mohammed, the government has become aware of how certain dishonest individuals use parody accounts, cloned versions of renowned media outlets, and deep fakes to carry out their evil actions.
"For example, candidates' campaign speeches are doctored to portray them in bad light, video clips and pictures of campaign rallies are tampered with to make them look poorly attended; fake or unscientific opinion polls are concocted, while threats of violence in certain parts of the country are exaggerated – all of which are then circulated via social media to a wide audience, with the aim of making their target candidates look bad, influencing public perception or even suppressing votes in certain areas.
In other words, there has been a gross abuse of social media platforms to purvey fake news and disinformation ahead of the elections," he said.
The Minister urged the two digital behemoths to accept certain Ministry personnel as users of their platforms so they can report articles that contain fake news and misinformation in order to get those reported posts removed.
Additionally, he requested that election results not coming from official sources be marked as unverified and asked platform owners to make posts from official channels, such as the Ministry of Information and Culture, INEC, the National Orientation Agency, etc., prominent on their platforms. He also urged them to cooperate with security agencies to remove posts that could incite violence.
"These actions, if executed, will go a long way in checking the proliferation of fake news and disinformation on social media ahead, during and after the elections," he said.
Dawn Dimowo, who oversees government affairs and public policy at Google, promised that the platform was prepared to collaborate with other stakeholders to safeguard the legitimacy of the elections.
She said that in addition to involving and expanding the reach of fact-checking platforms like Dubawa, Google had educated roughly 6,000 journalists to spot and report fake news.
Adaora Ikenze, the head of Anglophone West Africa for Meta, said the organization has established an Election Protection Operating Center with 60 to 80 staff members who are on duty 24 hours a day to make sure their platforms are not being utilized to taint the elections.
She claimed that in addition to enabling users to submit harmful contents to them directly, Meta has also implemented internal controls like WhatsApp Messages Sending Limits.