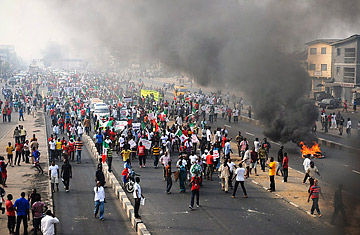 PROTEST HIT IBADAN OVER NAIRA SWAP, FUEL PRICE HIKE
Protests against the increase in petrol prices and the challenges of the new currency switch are still going on in various parts of Ibadan.
According to reports, the protest began in the state's Iwo Road area before spreading to other locations, including Agodi Secretariat, Gate, and Monatan, among others. Frustrated residents of the state reportedly took to the streets to block major roads, preventing movement of vehicles in said areas.
The alleged protest began subtly before rising to the point where roads are blocked and properties are being destroyed due to the ongoing fuel price hike combined with the recent new currency situation.
Several footage of the protests at various locations in the state has surfaced on social media, some of which showed people setting tyres on fire and destroying property. A video showed angry protesters damaging the Wema Bank branch at the Gate bus station.
Security enforcers have not been involved in the situation as of time of filing this report.
0
0
By Adeniyi Onaara  According to reports, the contestant died after paying N25 million for the Labour Party governorship nomination form....